Apple's AirTags tracking devices were billed as a cheap and easy way to track everything from your keys and wallet to your backpack and luggage. But, when these small button-sized Bluetooth item trackers stop updating the location, the entire AirTag becomes unusable and completely useless. Isn't it?
If you've bought one for $29 or a pack of four AirTags for $99 but it stopped updating its location even after you've set it up on your iPhone, then this article might do some help. There are a number of reasons why an AirTag might fail to report its location and if you are having an issue connecting your AirTag and updating the location, keep reading this article to know why this happens and what you can do to fix the problem.
Typically an AirTag should update its location whenever your iPad or iPhone is nearby. However, AirTag not updating its location issue can occur if your Bluetooth or WiFi connection is glitching, you may be using a managed Apple ID or the Find My service is switched off. Either way, you might have difficulty updating the AirTag location. The best way to go about fixing this is to register the AirTag to your personal ID, enable the Find My app, switch on location services or reset Airtag if no other solution works.
Let's see them in action!
Why Is Apple Airtag Not Updating its Location? (8 Reasons)
Wondering why is AirTag location no longer updating or why did AirTag stop updating location? Here are a few reasons for AirTags issues like not updating its location or AirTag not working or connecting.
A Dead AirTag Battery – Apple recommends changing the battery every once a year
Issues With Bluetooth And WiFi Connection – Airtags use information from Bluetooth and WiFi connections to work precisely. If the Wi-Fi connection in your area is bad, the waterproof AirTag might not work the way it should
An Incorrectly Set Up Find My App – make sure that the Find My app is set up properly
Location Services Are Switched Off – Airtags work in conjunction with Location Services to help you precisely locate missing items
An Update Is Pending – glitches in older versions of iOS are fixed by new updates
You Are Using A Managed Apple ID – With this kind of Apple ID, you cannot connect an Airtag
There Are Geographical Restrictions – U1 chip uses a special kind of technology that is not available globally
Two-Factor Authentication Is Disabled – Apple has made this a requirement to establish connections as it provides you with another layer of security
AirTag is not a real-time tracker
AirTag does not update location whenever your iPad or iPhone is nearby. It is not a real-time tracker. The frequency of the update will depend on the presence of other Apple devices close to the AirTag. That means that the Apple tracker will update its location when it encounters any other device with the 'Find My' App near you.
Being an Apple Lover, you'd love this subscription where you get 240+ apps in $9.99. We personally use it and love it!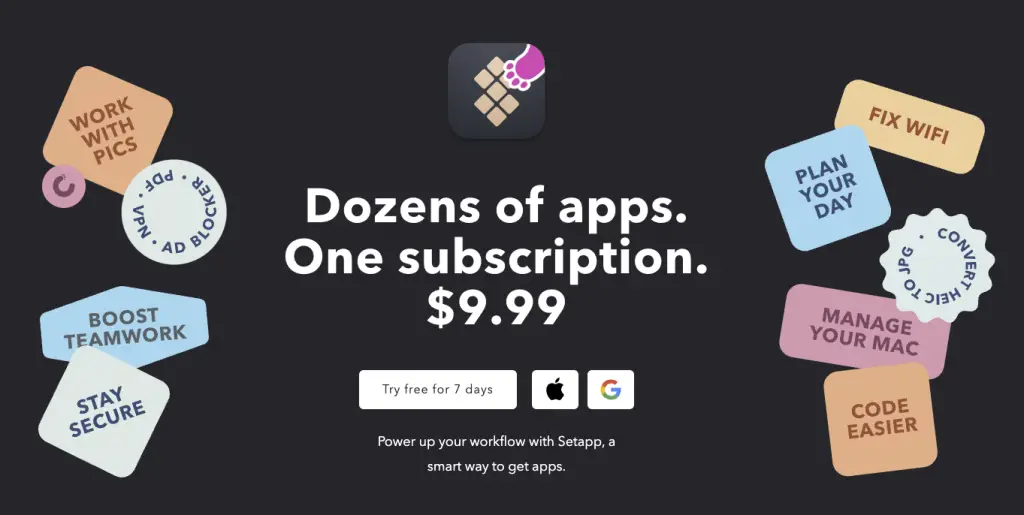 How do I get my AirTag to update the location? (10 fixes that work)
Now that we know how Location Services work with an Airtag, it's time to troubleshoot and find the solution to fix airtag location update frequency.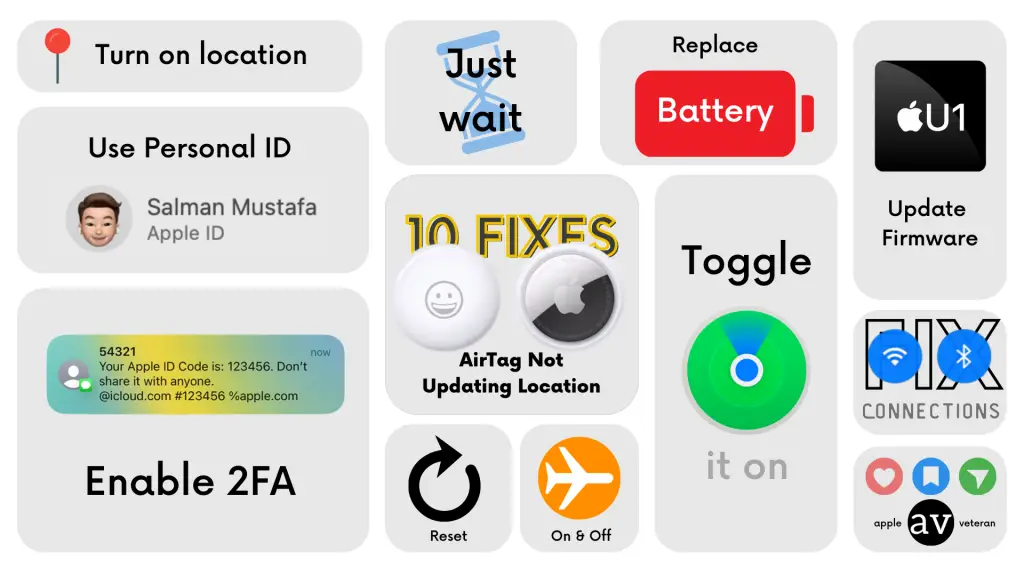 #1 – Turn On Location Services
Wondering why isn t AirTag location updating? Go to Settings>Privacy>Location Services and ensure the feature is on.
#2 – Register the AirTag to your personal ID
Managed IDs are typically used in corporate and institutional settings. With this kind of Apple ID, you cannot connect to Airtag, hence AirTag location update issues. However, if you have a personal ID, you can switch it and use it on the other profile.
#3 – Fix Bluetooth And WiFi Connection
AirTags do not need Wi-Fi to function as it shares their location through Bluetooth. Still, you need to enter the Find My app or iCloud to get the desired information from the AirTag which require an internet connection. The simple fix for this is to put your phone on Airplane Mode and then restart it. You should always keep your iPhone's Bluetooth on for the AirTag to work.
#4 – Reset Your AirTag to Fix Apple AirTag Not Updating its Location
To know how to refresh AirTag location, go to the Find My app > Switch to the Items tab, and choose your Airtag device > Swipe up to see the Settings for the Airtag > Select 'remove item' and 'confirm' > Confirm your choice to remove the Airtag.
Your AirTag has been successfully removed and now you can add the AirTag to your iPhone once again after you restart your phone. In a lot of cases, this quick reset will solve AirTag location not updating and resetting AirTags is helpful for sorting out pairing issues as well.
#5 – Wait For the Location to Update
AirTags rely on your phone's Bluetooth (if you are nearby), or Bluetooth of other Apple phones as well as the efficiency of the Find My network to transmit location information to you.
Some users have reported that the location of their AirTag sometimes took up to 30 minutes to update. So, it is a good idea to just wait for the Find My network to receive and transmit the location information to you.
#6 – Replace the battery to get your AirTag to update the location
You will usually get a notification to your iPhone once the AirTag's battery starts running low. You can also go to the Find My application to check the battery's charge. It is advised to replace the AirTag battery every 10 months. Even if you don't receive notification but you have had the AirTag for over a year, then you might still want to insert a fresh battery.
#7 – Turn Airplane Mode On and Then Off
A possible reason why your AirTag is not updating its location is that there may be a bug on the AirTag, your phone or the Find My app on your phone. A quick fix is to turn airplane mode on and then off. This will reset all the network connections – internet, mobile, ultra-wideband – and clear minor glitches that may be causing the location not to update on your phone.
#8 – Enable Two-Factor Authentication to get your Airtag working again
Enable Two-Factor Authentication to get your Airtag working again. You can find this option in the Settings App. Apple has made this a requirement to establish connections as it provides you with another layer of security.
Open the Settings app on your iPhone > tap on your name to open up your profile > check to see if the two-factor authentication toggle is On > if not, switch it on and follow Apple's prompts to enable 2FA.
#9 – Enable 'Find My' Service
The Find My App is where everything about your AirTag is available. You can switch it on by going to the Settings App, finding the option 'Find My App,' and switching on the toggle next to 'Find My iPhone.'
#10 – Update AirTag Firmware
Your AirTag might be on an older firmware that can have some bugs. It's always recommended to update your Firmware to avoid any compatibility/software issues.
How Long Does It Take the Airtag to Update Location?
As long as a Find My device is present in the AirTag's range, it will keep updating the AirTag location every 1-2 minutes.
How to Make the Airtag Update Its Location More Often?
The AirTag updates its location whenever an Apple device with the Find My app is somewhere near it. So, to make the AirTag update its location more often, ensure it has plenty of Apple devices around it.
Conclusion
The Apple item tracker can stop updating location if one of the features that allow it to work properly is turned off (Find My app, Location Services, Bluetooth, two-factor authentication), if there is a system glitch, or if the Wi-Fi connection is bad.
In many cases, a simple AirTag reset or a refresh will help. In other cases, you may need to replace its battery, update to the latest Apple software and retry with the Airtag or switch on Location Services in the settings app.
Whatever solution works for you, let us know. If you have a better solution, don't hesitate to write it below so we can update this list.
Helpful Videos to Fix Airtag Location Stuck!