You should fundamentally know how to factory reset an AirTag, not to lose one, but to set it up ready so someone else can use it.
How to Transfer AirTag to New Phone?
Once the AirTag is removed from an Apple ID or manually reset, it can then be paired with a new Apple ID. The AirTag will then show up in the Find My app of the next user, which is also where it can be renamed.
To successfully transfer AirTag to a new phone, you should know how to remove AirTag from your Apple ID. This is also referred to as hard resetting the AirTag. When you hard reset airtag, you basically unlink your Apple ID from it.
Here's Why You Need to Factory Reset Your AirTag
When you set up an AirTag, it's automatically associated with your Apple ID, hence can not be used by someone else amidst your use or unless you reset it.
Apple AirTag is linked with one Apple ID which belongs to you. If you want to gift your Bluetooth item trackers to your loved ones, you'll need to remove that Apple tracker from your Apple ID first.
Similarly, if the previous user removed Apple's $29 Bluetooth key finder from their Apple ID but they were out of Bluetooth range of the AirTag, then you need to reset it before you can use it with your devices.
How to Factory Reset an AirTag So Someone Else Can Use It
Resetting can be as simple as removing an AirTag from your ‌Apple ID‌, by following these steps:
Open the Find My app.
Tap on the AirTag that you want to remove by choosing its name from the list.
Swipe upwards to bring up the full AirTag settings.
Tap on "Remove Item."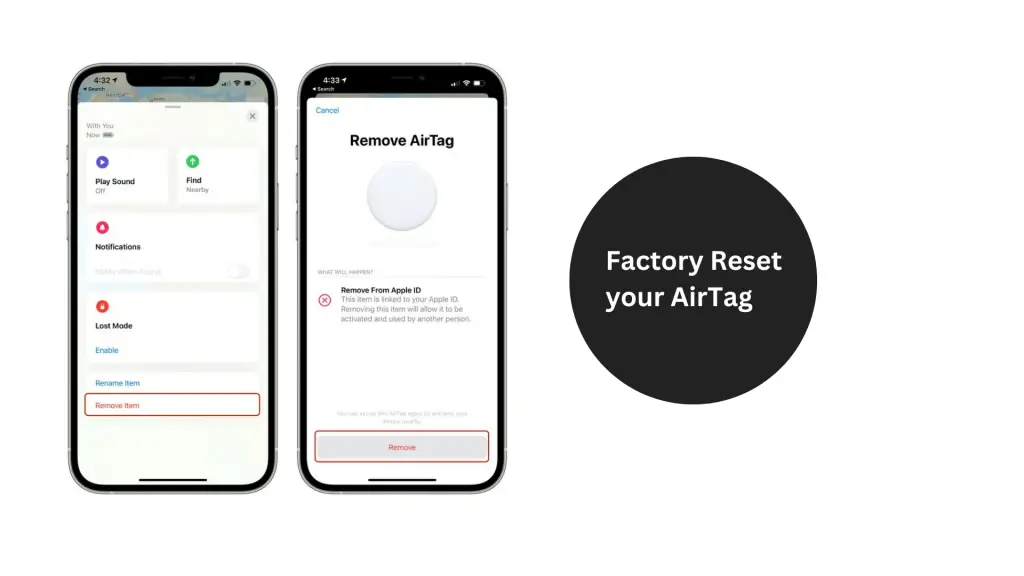 Tap on "Remove" and then tap again on the "Remove" popup.
This process removes the AirTag's ownership and you can now give it to someone else to set up and use with their own account.
How do I manually reset my AirTag?
Here's how you can do a hard reset on your AirTag. This is a manual process and works best if you're not in the Bluetooth range of your AirTag when you remove it from your account.
If you wind up with an AirTag from someone else that says it's linked to their ID but they've already removed it from their account, follow these steps to physically reset the AirTag:
Press down on the polished stainless steel battery cover of your AirTag and rotate counterclockwise
Remove the cover and the battery
Replace the battery
Press down on the battery until you hear a sound. This sound means that the battery is connected
When the sound finishes, repeat the process four more times, removing and replacing the battery, then pressing down on the battery until you hear a sound You should hear a sound each time you press on the battery, for a total of five sounds. The fifth sound is different from the previous four. This indicates that the AirTag is now ready to pair
Replace the cover by aligning the three tabs on the cover with the three slots on your AirTag
Press down on the cover
Rotate the cover clockwise until it stops rotating
The best practice is that the person who gives you an AirTag should remove their account in the proper way while it's in range of Bluetooth because that's a far easier process for clearing AirTag ownership to pass it along to someone else.
Can you reset an AirTag you found?
Remove the cover and battery, then put the battery and cover back. Press down on the battery until you hear a beep. When the sound ends repeat the process four more times: remove and replace the battery, then press down on the battery until you hear a beep.
Can someone reset my stolen AirTag?
Each Apple AirTag can only be associated with one person's Apple ID — which, unfortunately, is why you can't share AirTags with family members — and only that person can factory reset. If you have an AirTag and you want to give it to a friend or sell it to somebody, you'll need to factory reset it.