Apple AirTag tracker, the size of a penny, is designed to track things such as your keys and wallet, as well as your personal belongings. Whether you buy a single tiny little puck for $29 or a pack of four for $99, the AirTag will work perfectly with your iPhone. Through precision tracking, AirTag users can locate their lost items with quite a degree of accuracy. But, what about those who want to use Apple AirTags on Android.
So, if you're wondering "Can you use AirTags with an Android phone or tablet? The answer is yes. AirTags are designed for use with Apple devices and have full functionality with iPhones, but can you use them effectively with Android?
This article explains everything you need to know about AirTags working with Android. We'll also show you how to use AirTags with Android devices as well as name a few Android tracker apps that can scan and track the lost item your AirTag is attached to.
Do Apple AirTags Work With Android? Well (yes) but there's a catch!
You can't set up or track AirTags with an Android phone, but you can scan for them, and read them if you find one. Even though you can use the Play Sound to locate the AirTag, you won't get to that precision that the AirTag provides in its U1 chip and Find My.
To use the AirTag efficiently, you need an iPhone, iPad, or Mac to set up AirTags because they require the Find My app that's only available for Apple devices. You can also put AirTags into Lost Mode or find your AirTags on a map because both of those functions require the Find My app.
Can You Set Up AirTags Using an Android Phone?
If you're still curious that can you use AirTags with Android, then yes you can and I'll show you what you need to do to set up AirTags using an Android phone. Apple released an Android app called Tracker Detect, which tracks item trackers and works with Apple's Find My network. It won't do so automatically; you have to prompt it to detect trackers.
The problem is that, unlike iPhones, the app won't scan for AirTags in the background. You will have to manually initiate a scan if you think an AirTag is being used to track you.
How to Use AirTags With Android
Once you download the Tracker Detect app, it will check for trackers that are outside the Bluetooth range of the owner's device. Now, open the app and tap scan and tap again to stop.
The other way you can use AirTags with Android is to scan a lost AirTag if you happen to find one. The Android version of AirTag will allow you to see the phone number or message that the AirTag owner entered when they put their AirTag into Lost Mode, so it may help you reunite the AirTag, and its connected item, with the owner.
How to Scan For AirTags With Android
To scan for AirTags with Android, you need to install a Bluetooth scanner app.With a Bluetooth scanner app, you can look for an unnamed Bluetooth device manufactured by Apple and use the signal strength of that device to locate it.
Here's how to scan for AirTags with Android:
Use the Find My app on your Mac to get the last known location of your lost AirTag, and go to that location.
Install a Bluetooth scanner app on your phone.
Look for an unnamed device, and check its details.
Check the manufacturer-specific data of the unnamed device.
Move around in the same general vicinity while observing the signal strength of the device that you suspect may be an AirTag.
The signal strength will grow as you get closer to the AirTag and diminish as you get further away.
Once you locate the AirTag, scan it with the NFC reader in your phone to verify that it's the one you're looking for.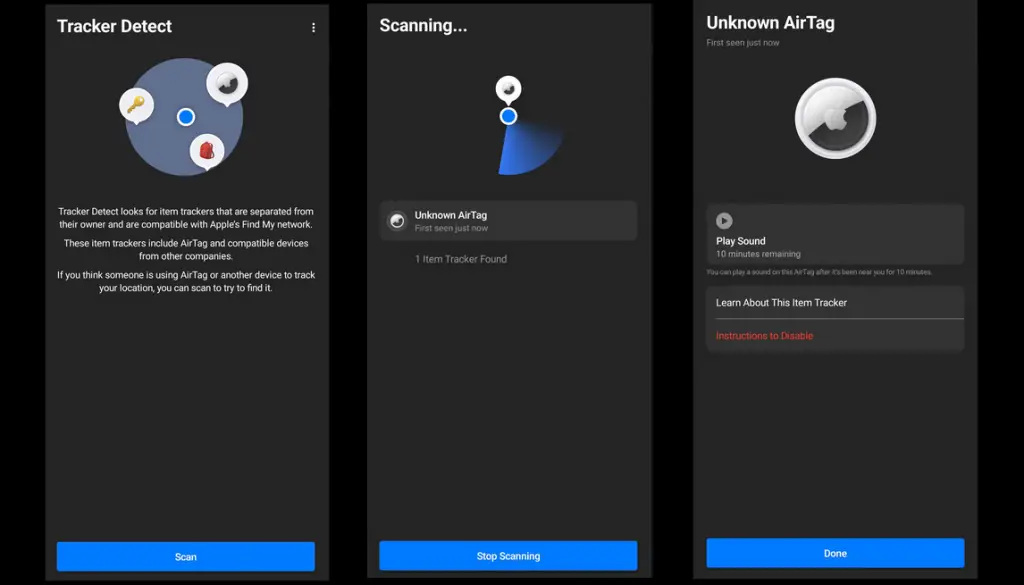 How to Scan an AirTag With Android that has an NFC reader
You can scan AirTags with any phone that has an NFC reader, so you can scan for a lost AirTag with an Android phone. Here's how to scan an AirTag with an Android phone:
Tap the white side of the AirTag to your phone.
The AirTag must be placed against the NFC reader in your phone.
When the AirTag is successfully read, your phone will provide a popup prompt or just automatically launch a webpage.
If the AirTag has been marked as lost, you'll be able to see the phone number or email that the owner provided when they put the AirTag into Lost Mode.
AirTag Alternatives For Android Users
While AirTags work perfectly with iPhones, the functionality is severely limited with Android phones. Other Bluetooth trackers, like Tile and Galaxy SmartTag are great AirTag alternatives.
These alternatives also work just as well with Apple devices as they do with Android, although they lack the Precision Finding feature that you get when you use an AirTag with an iPhone with the U1 chip.