Never let your wallet look glutted, bulged and lumped. The best Apple AirTags wallets for men and women are meticulously designed to take care of your essentials like cards, IDs, and cash. Most importantly, wallet AirTags make fumbling through your wallet a distant memory.
Anytime you lose something, a hidden AirTag wallet is a compact, unique, and practical apparatus to recall where you last left it. If you want to look like a distinguished gentleman every time you swipe out that top-notch leather wallet, you wouldn't resist the temptation of carrying a smart, slim and minimalist AirTag wallet card holder to safeguard your cards, cash, and IDs.
If this idea of holding the Best AirTag wallets in 2023 piques your interest, let's drill down the list and look for something luxurious, well-priced and practically useful Apple AirTag smart wallet for everyday carry.
AirTags work perfectly for tracking wallets. If you want to place AirTag in your wallet, consider buying the best wallets that have built-in AirTag holders to let you securely attach an AirTag to them.
The list below showcases the best AirTag Wallets we've spotted out there, with something for everyone. In the list, you'll find wallet that holds an apple airtag so you never lose your cards and cash again. It's quite a hack!
Yes, it is worth buying specifically if you already use Apple devices like an iPhone and are looking for an affordable solution to help keep track of high-value items like your keys, wallet, backpack, etc.
Why Do I Even Need A Wallet For My AirTag?
A true gentleman or a lady would always carry a wallet with Apple AirTag slot. Never would you want an AirTag as thick as 10 credit cards forcing its way into their wallet, ripping and stretching its material causing the thread to bunch up on the side ~ ultimately deforming the structure.
If that makes sense, let's explore the best men's wallet with Apple AirTag and evaluate the key components: silhouette, security features, material and of course style. Also, do not ever travel without one if you really want to save yourself from trouble.
The Best Apple AirTag Wallets (Slim & Minimalist)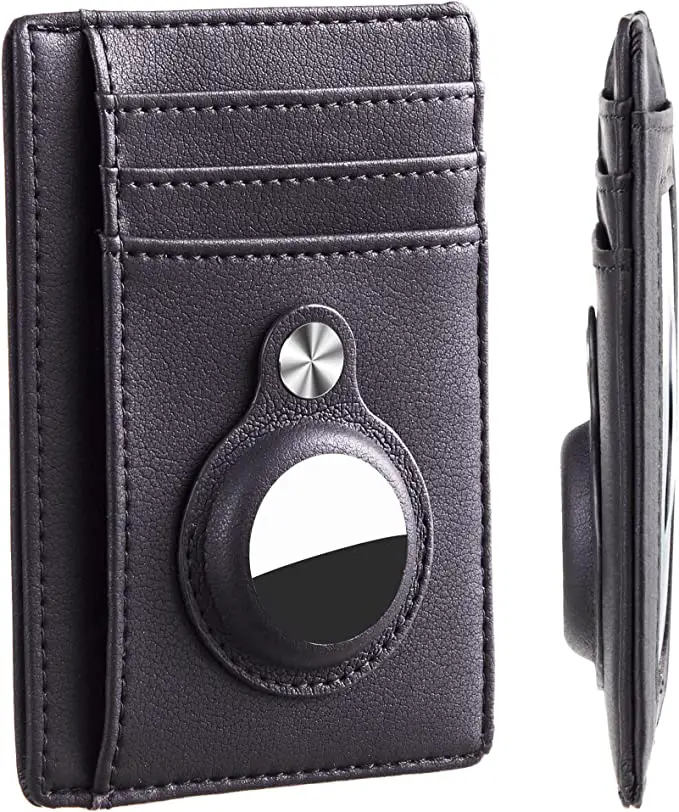 Hawanik Slim Minimalist Front Pocket Wallet with Built-in Case Holder for AirTag
Slim Wallet that is decently priced
Specifically designed for the Apple Bluetooth tracker, Hawanik's Slim Wallet is a thin wallet that keeps the tracking chip inside a buttoned compartment on one side. Its minimalist silhouette is a perfect "Apple AirTag men's wallet". It is capable of holding your ID, five standard credit cards, and six folded bills, which store nicely on the inside.
Raptic Tactical Wallet Case
Tactical Wallet Case for Apple AirTags
Raptic Tactical Wallet integrates an AirTag holder for easy tracking with an 8-in-1 detachable multi-tool in a genuine leather carry-along that holds 4 cards or 2 cards plus folded bills, so you'll have more while carrying less. For everyday carry or just tactical-minded individuals, this is a great wallet with Apple AirTag that stores four cards or two cards with folded bills.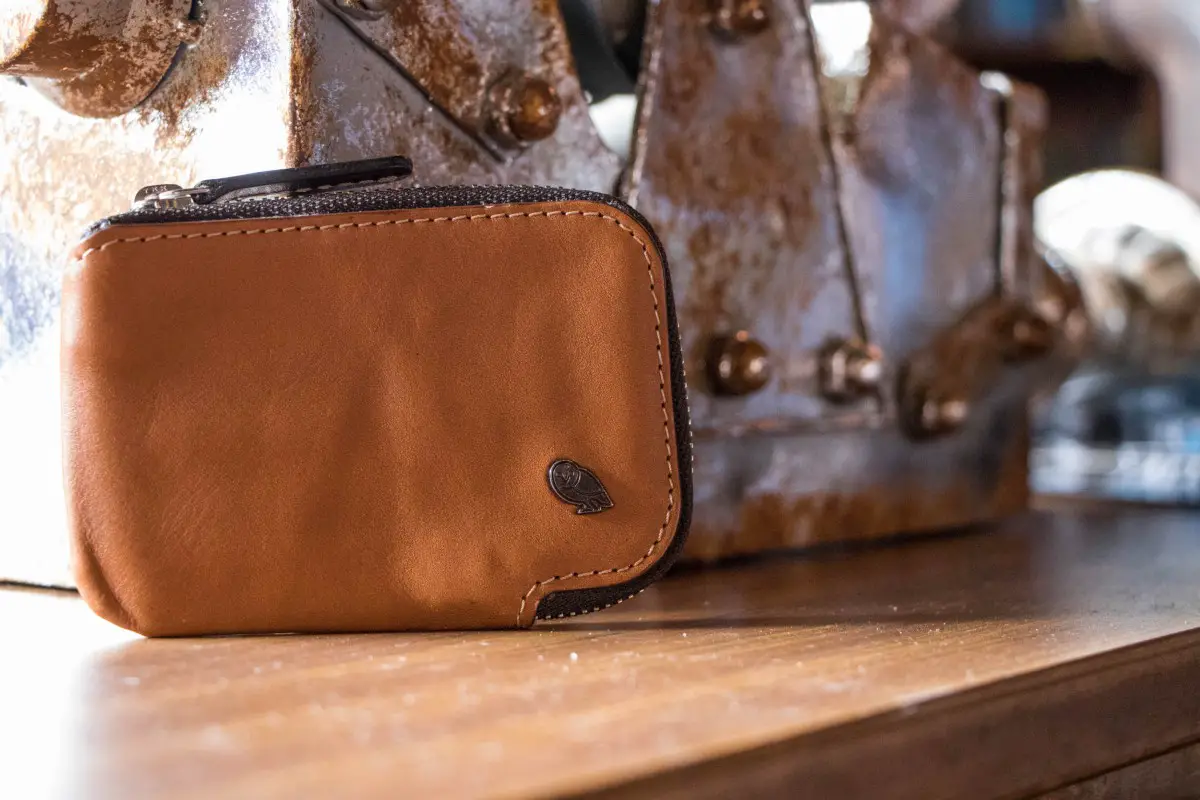 bellroy airtag wallet (Small Leather Zipper Card Holder)
Bellroy airtag wallet is the best AirTag wallet holding up to 15 credit cards and a plethora of folded bills
This versatile little wallet unzips to reveal big flexible storage for cards, bills, coins and even a spare SIM. Unlike traditional zippered wallets that just unzip on one side, Bellroy's Card Pocket is made from premium leather. While this Bellroy pocket wallet doesn't sport a built-in AirTag holder, the coin pocket is perfect for keeping one inside.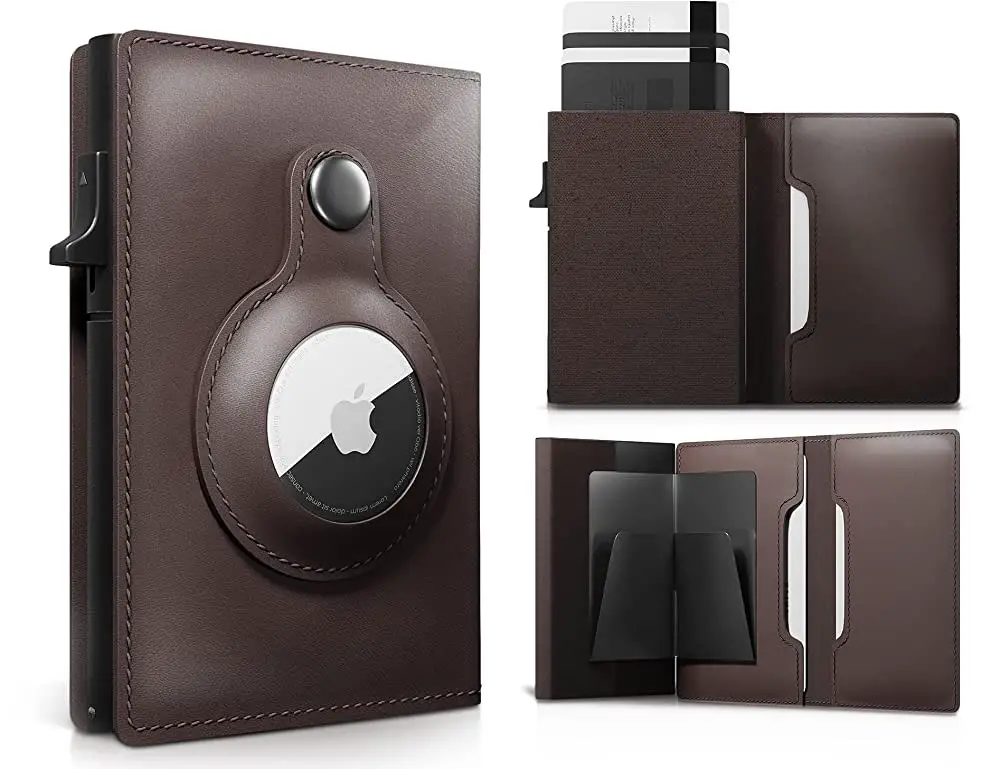 ANOVUS Brown Apple AirTag Wallet With Credit Card Holder
Slim Leather Apple Airtag Wallet – Men and Women
A premium leather smart wallet, with a discreet button that you can flick to fan out all your cards at once. Perfect for slim storage and quick card access, the built-in wallet apple airtag cardholder protects them against skimming. You can also choose between Anovus black apple airtag wallet or four understated colorways.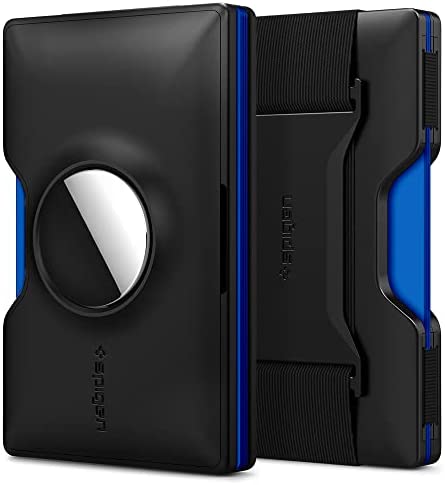 Spigen Wallet S Compatible with Airtag Wallet Card Holder Case
Spigen Airtag wallet is a Slim Minimalist Credit Card Holder for Men and Women
This slim wallet with apple airtag is lightweight, minimal and unobtrusive, making it perfect for stashing in a front pocket. The sleek design is a tough folding shell built to secure up to 12 cards and some cash. Spigen Wallet S comes with a dedicated slot for an AirTag and its look works with just about any personal style in gunmetal or black.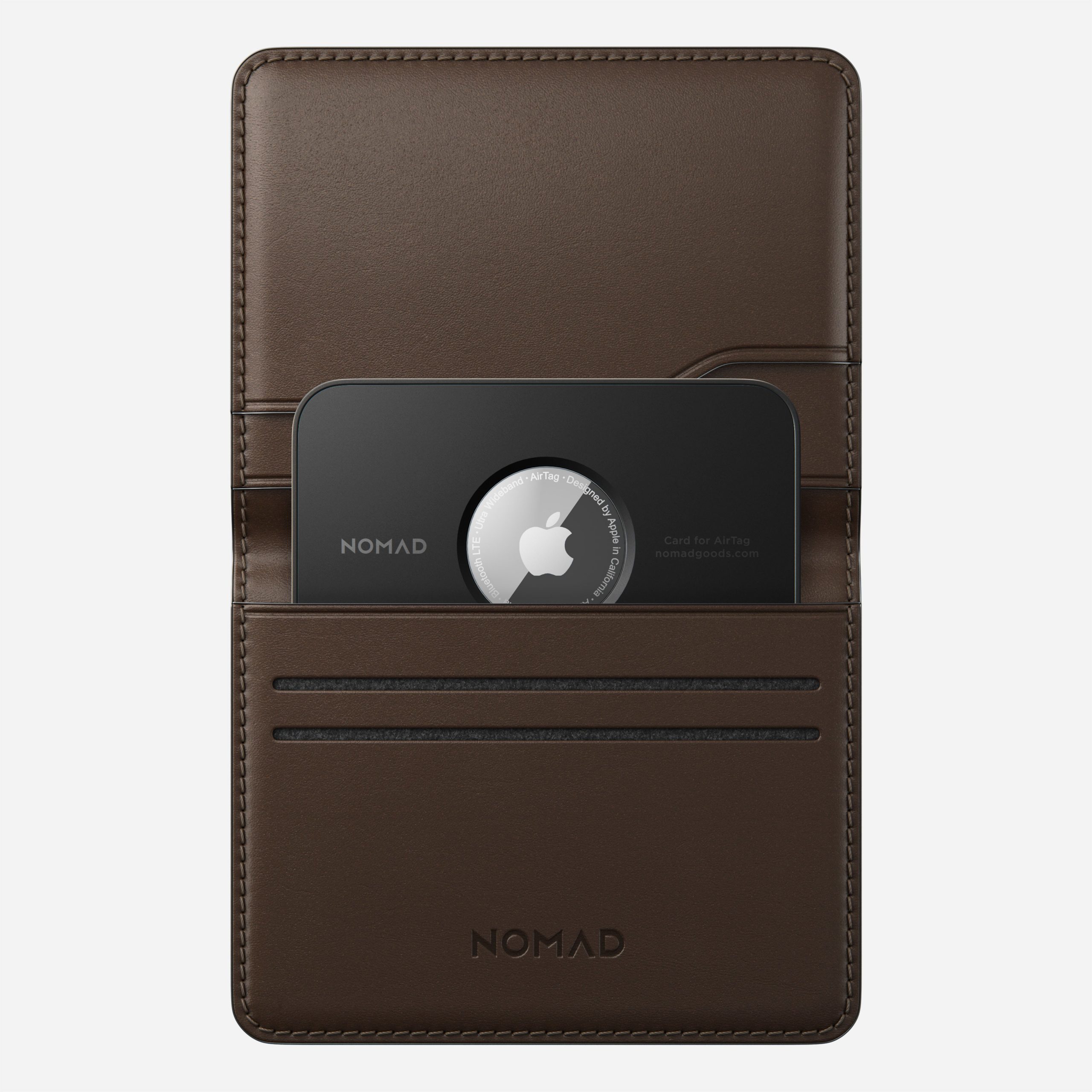 Nomad Card for AirTag
Best AirTag Wallet Insert
Card for AirTag is a credit card-shaped AirTag wallet holder that makes it easy to track your wallet with the Find My App. Similar to the Spigen AirTag Holder, it does not come with a keychain. This one has a softer surface and is made from a polycarbonate frame and easily fits in most credit card slots without issue.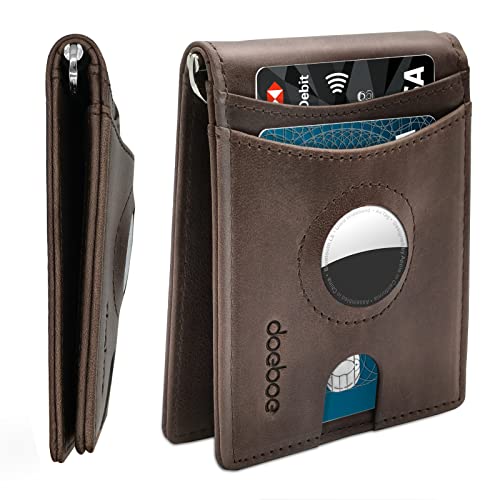 doeboe Slim Bifold AirTag Wallet
The best Apple Airtag bifold wallet
This is the Best Budget AirTag Wallet. Made of premium saddle leather, doeboe slim bifold features built-in RFID protection. This ensures hackers won't access your credit card data wirelessly.
Bifold Slim Wallet for Air Tag GPS Tracker is the best option for folks who carry lots of cash or prefer bi-fold wallets to slim ones. It stores around 8 to 10 cards along with the AirTag slot. It also makes a great gift idea!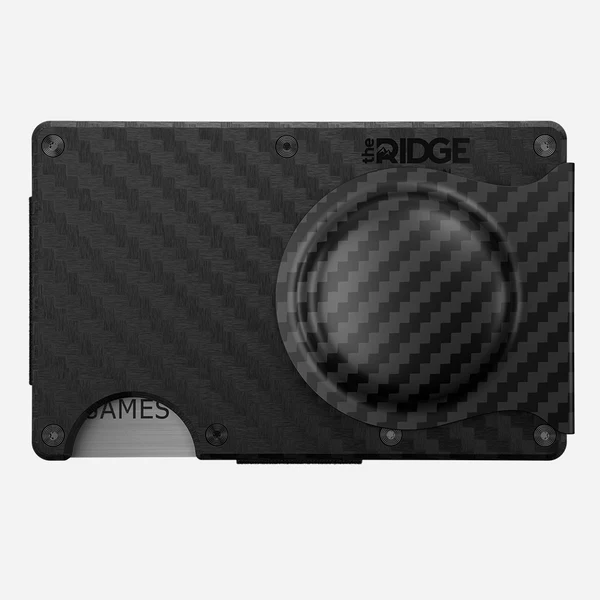 Ridge Carbon Fiber Smart Wallet Kit
The Ridge Wallet Apple Airtag is the best AirTag Carbon Case
The Carbon Fiber Smart Wallet Kit takes the company's already awesome Ridge Wallet and adds a clip-on carbon fiber AirTag case to make your wallet smarter and finding it even easier. Fasten an Apple AirTag to the face of any Ridge Wallet and use the Find My network to find your wallet.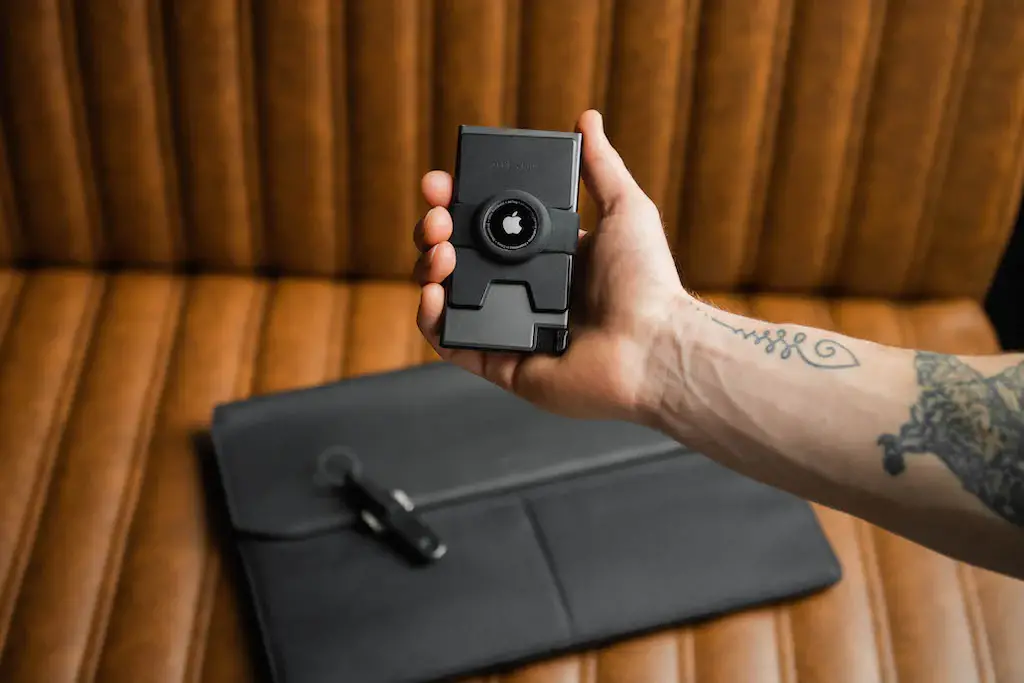 ekster airtag wallet
Ekster is a minimalist airtag wallet
Made of leather, ekster is a smart airtag wallet, perfect for slim storage and quick card access. The built-in aluminum cardholder fans out your cards at the click of a button and protects them against skimming.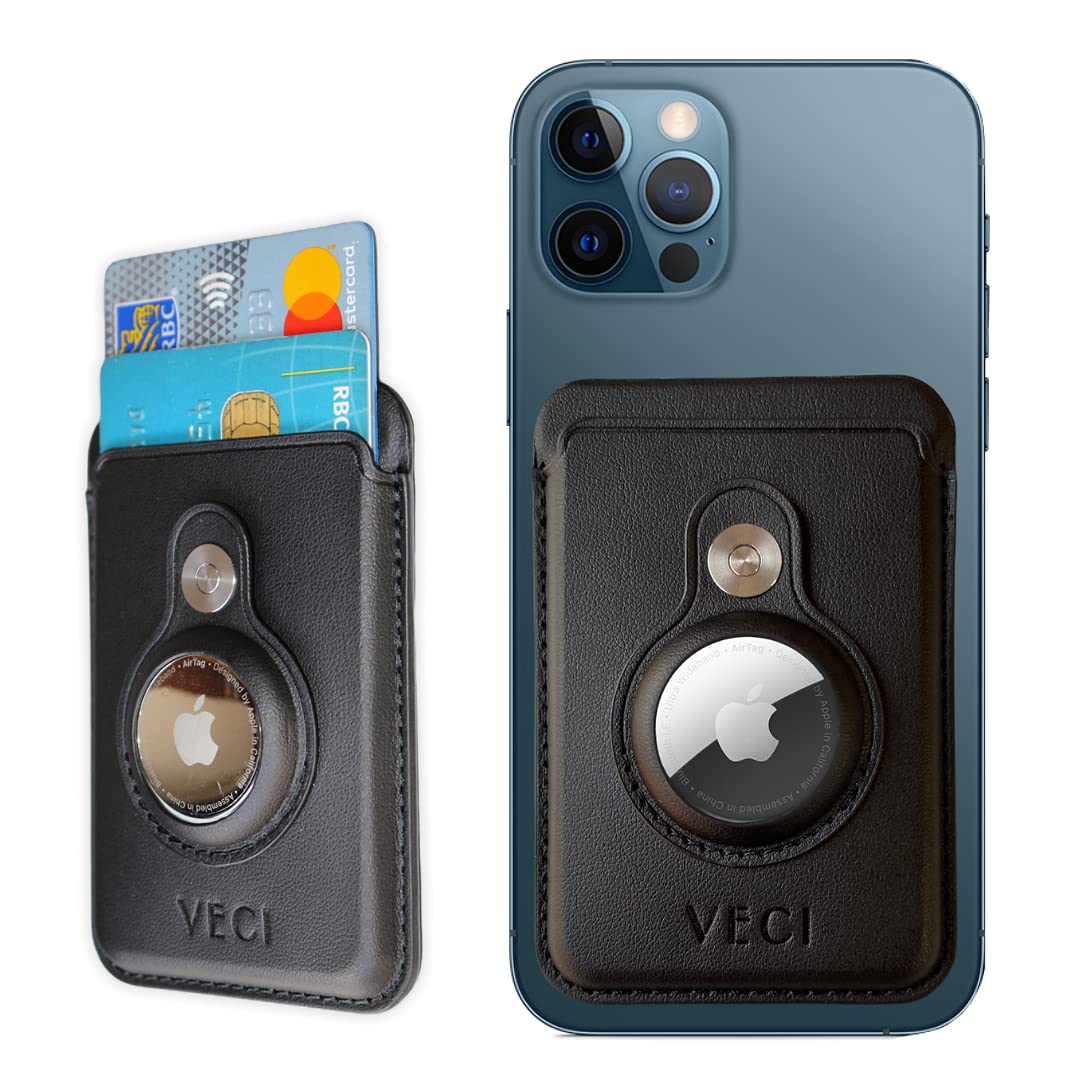 VECI AirTag wallet MagSafe
Best magsafe wallet with airtag
Built-in Magnets – VECI wallets incorporate a high-quality magnet into their design. You don't need additional magnets on the back of your iPhone 12 series or MagSafe compatible case. VECI's magnets will mount your wallet to any MagSafe compatible device. The magnets blend in with the wallet and are not visible from the exterior.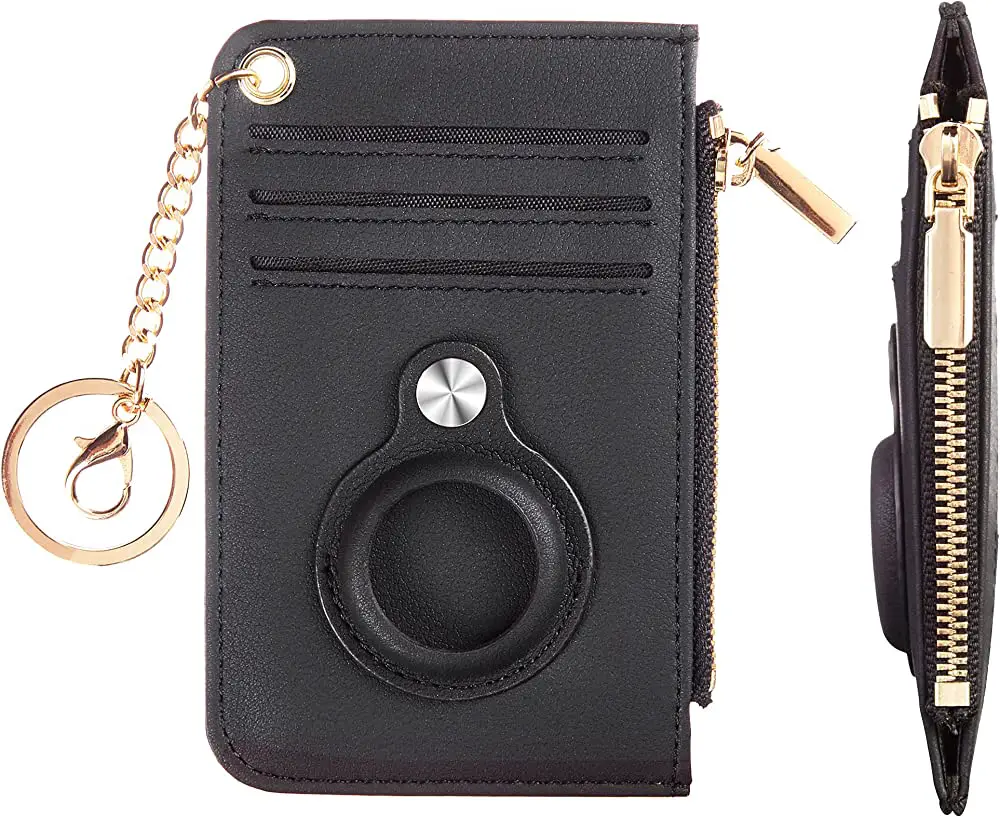 Hawanik Women's Slim Keychain Wallet Compatible with AirTag Wallet Holder Case (Black)
Apple Airtag wallet for Women
This women's slim wallet has an integrated case for AirTag, simply put your AirTag into the case then you will never lose your wallet again as long as you have your iPhone in hand, you can find your wallet anywhere, anytime, at ease.