For something as little as $30 and no subscription, you wouldn't just stick your AirTag on an item, without unraveling what it is capable of. But, does that mean that Apple item trackers will only work on a few specific models? Let's put it this way: Will the AirTag work with older iPhones and iPads?
Let's see you have an iPhone 6s Plus and you want to know if the item tracker will effortlessly work with it. What's the catch? Well, in this article, we'll answer that as well as list out which iPhones support AirTags. Furthermore, we'll show you exactly how you can set up and use the AirTag Bluetooth tracker with older phones like iPhone 6.
Anything from iPhone 6s and up supports AirTags
Any iPhone that supports iOS 14.5 can be paired with and track AirTags. This means anything from iPhone 6s and up:
iPhone 6s and 6s Plus
iPhone SE (1st gen)
iPhone 7 and 7 Plus
iPhone 8 and 8 Plus
iPhone X
iPhone XR
iPhone XS and XS Max
iPhone SE (2nd gen)
iPhone 11, iPhone 11 Pro, iPhone 11 Pro Max (with U1 precision finding)
iPhone 12 mini, iPhone 12, iPhone 12 Pro, iPhone 12 Pro Max (with U1 precision finding)
Anything older than iPhone 11 will not have the Precision Finder
Wondering what's missing in older iPhone models? It's Apple's U1 chip, responsible for allowing AirTags to pinpoint a location with precision. The U1 Ultra Wideband (UWB) processor releases rapid burst radio waves and measures how long it takes these waves to travel between compatible devices. This data is then used to calculate the location of a device and is sensitive enough to pinpoint the device within inches.
Sadly, the older iPhone models are not equipped with Apple's U1 chipset.
Which Models Don't Have a U1 Chip?
The iPhone 11, iPhone 11 Pro, iPhone 11 Pro Max, iPhone 12, iPhone 12 mini, iPhone 12 Pro, and iPhone 12 Pro Max are equipped with Apple's U1 chipset. iPhone models starting with the 2018 iPhone XS and older do not have the U1 processor. Last year's iPhone SE 2020 also does not have the U1 locator chip.
You can use AirTags with older iPhones, iPads, and even Macs, but you can't access all of the functionality.
The U1 was introduced in 2019 and first debuted in the iPhone 11. Instead of using an Ultra Wideband connection, these older iPhones will connect to an AirTag via Bluetooth. So, if you actually have a 6S plus and not a 6 plus, yes, you should be able to use AirTags with your phone.
So, the models that do not have the U1 chip (anything older than iPhone 11) will not have the precision finder. They will still be able to tell you where your AirTag is on a map, and they will be able to activate the "Play Sound" feature — to have the AirTag announce itself — if they are in range.
Android phones don't support AirTag setup and tracking, but you can use a Bluetooth scanning app to read and find lost AirTags on an Android device.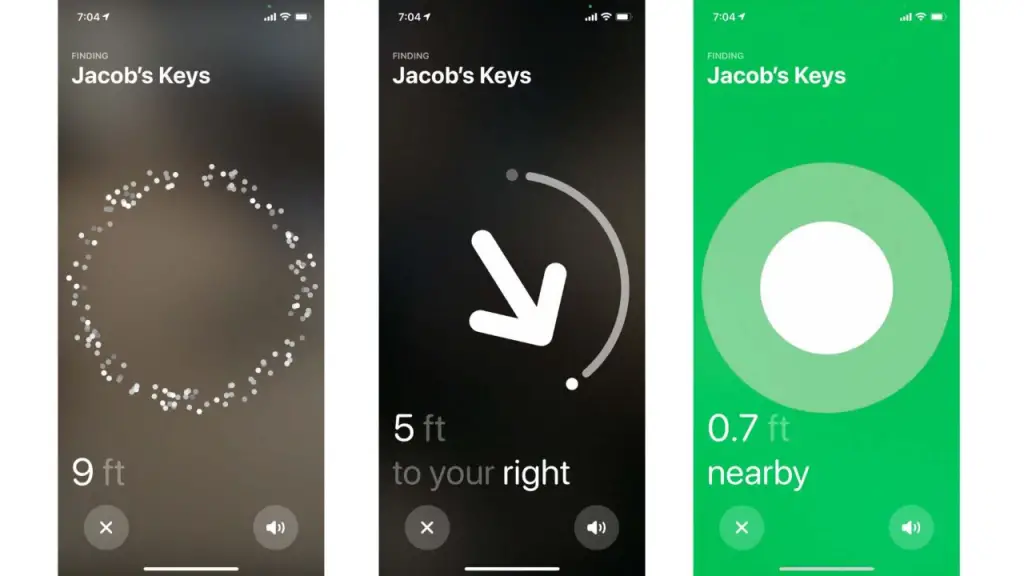 Using AirTags With Older iPhones. What Else Can't I Do?
The biggest difference between using AirTags with older iPhones and the newer iPhones (with the U1 chip) is you can't use the Precision Finding feature if your phone doesn't have the U1 chip. Without the U1 chip, your phone also can't help other people find their lost AirTags if you happen to find yourself in close proximity to a lost AirTag.
You can still check a lost AirTag for a message if your older iPhone has NFC, but your phone won't automatically sense a lost AirTag and ping Apple with its location if you don't have the M1 chip.
Tracking on an older iPhone model will be handled by Apple Maps. You can open the Find My app and select the AirTag you wish to track. Instead of remaining in the Find My app, an older iPhone will be directed to Apple Maps, which will display the route you must take to find your AirTag.
Set up and use the AirTag Bluetooth tracker with older phones like iPhone 6.
Setting up the AirTag is super easy. All you need is your iPhone, Find My, Bluetooth, and Location Services all turned on. Once it is set up, here's how you can use it to track your lost items back.
You can use AirTags with your older iPhone through the Find My app, with the exception being the Precision Finding feature locked out. That means you can use your older iPhone like model 6 or 6plus to put an AirTag into Lost Mode, view a lost AirTag's location on a map, and rename AirTags.
Here's how to find your AirTags with an older iPhone:
Open the Find My app
Tap items
Tap the missing item on the map for more information
Tap Directions, then go to the location indicated on the map
Once you arrive at the last known location, open Find My and tap the missing item on the map again.
Tap Play Sound.
If your AirTag is within Bluetooth range, it will play a tone.
If the AirTag doesn't play a tone, change your position while remaining in the vicinity of the last known location of the AirTag and tap Play Sound again. You can also tap Stop Sound if you find the item while the sound is still active.