This might be a little too harsh, but what's the worst possible thing that could happen to you while you excitedly embark on a trip of adventures or maybe a romantic vacation of a lifetime?
Quite possibly, your luggage doesn't make it with you when you finally reach your dreamy destination. Is it?
Travel chaos has become an indispensable, most pressing, and under-reported issue these days. Canceled flights and long delays dominate the storyline. Just in the first quarter of 2022, more than 684,000 bags were mishandled, according to data from Air Travel Consumer Reports, published by the Department of Transportation.
"Mishandled," in airline parlance, means the bags were either "lost, delayed, damaged or pilfered." American Airlines mishandled an average of nine bags for every 1,000, according to the Air Transportation data
While much of this year's aviation disorder has been out of travelers' control, there's at least one way to take some control amid the chaos – a mini-tracking device like an AirTag or Tile Tracker to track your stuff.
What is the alternative to Apple AirTag for luggage tracking?
If you are looking for the best Bluetooth item trackers for travel and lost luggage, you would surely be accustomed to the very popular $29 Apple AirTag.
The waterproof Apple AirTags are one of the most popular tracking devices on the market these days, consistently ranking as a No.1 bestseller on Amazon. However, there are plenty of options on the market that offer features AirTags lack.
But, why would you want to ditch AirTag for its alternative?
Apple AirTags are great for iPhone owners, but what if you're an Android user? Or what if you want a different form factor, like the one with a hole?
The best AirTag alternatives offer helpful capabilities like a button to help find your phone, GPS tracking, and Android compatibility, so you can quickly find and recover lost items.
3 Best Luggage Trackers for Keeping an Eye on Your Checked Bags
Here are three great AirTag alternatives to always know where your suitcase winds up.
Tile Pro: The Overall Best AirTag Alternative for Travel and Luggage ✈🧳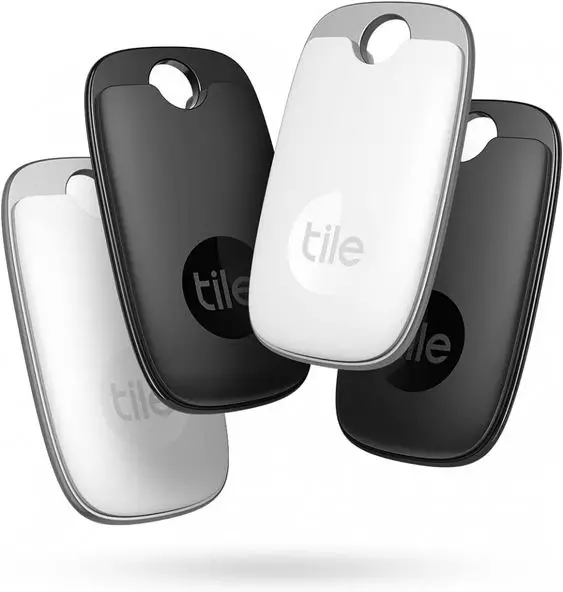 Why We Picked It
We chose Tile Pro because it has everything you love in a Tile, cranked up to the max. It's louder and more durable and built to last longer, with a metal frame.
Above all, the Tile Pro is compatible with Android, iOS, and smart home systems. This classic Bluetooth tracker earned the top spot for its ability to track personal items and belongings up to 400 feet.
This is great for items that haven't trekked too far in the airport. It is going to sound off around 80 decibels, which is surely enough to hear it.
The best part is its convenient loop at the top that makes for easy attachment to your keychain, bag, and other items.
The IP67 water-resistance rating makes it durable against spills and splashes. Like the AirTag, it also boasts a one-year battery lifespan.
Download the Tile app to start tracking your belongings. When in range, you can easily locate the Tile (and your attached item) via a loud beeping sound.
Or, if your phone goes missing, you can double-press the button on the Tile, and your phone will ring — even when it's on silent.
Compatibility: iOS, Android, Alexa, Siri, and Google Assistant | Connectivity: Bluetooth | Range: Up to 400 feet | Dimensions: 2.32 x 1.32 x 0.3 inches | Battery: 1 replaceable lithium battery included with up to 1 year of use
Samsung Galaxy SmarTag: Tracker Made For Samsung Galaxy Phones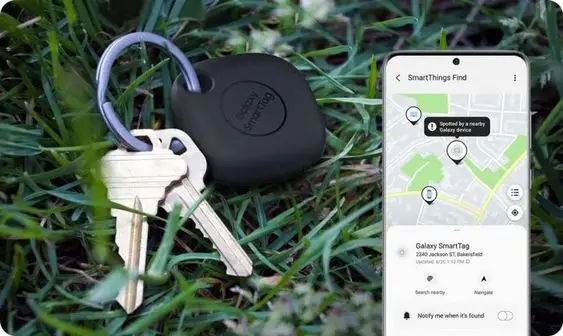 Why We Picked It
SmarTag is for Samsung Galaxy phone users. It uses Samsung's SmartThings app to see a history of places your tracker has been.
You can make the SmartTag ring at the volume set by you (mute, normal, or loud). The tracker has a Bluetooth range of up to 390 feet and utilizes the Galaxy Find network to privately find a lost item for you when outside that range.
The biggest benefit of the Galaxy SmartTag is its oversized footprint in the industry. Like AirTags, SmartTags are tracked by every compatible Samsung phone nearby.
The reason this is the best Bluetooth tracker for Samsung users is that it doubles as a trigger for smart home automation.
You can press the tag to turn on lights, kickstart air conditioning, or even open the garage door. But, that is only compatible with appliances that fall under the SmartThings ecosystem.
Still, the Galaxy SmartTag is rugged, practical, and a great value buy for Samsung users. The tracker sells for $39.99 or less for a single SmartTag+.
Moreover, this Bluetooth tracker with a loudspeaker and a one-year replaceable battery, and a rugged build is well worth considering.
Compatibility: Samsung Galaxy phones running Android 8.0 or higher with RAM 2.0GB and above | Connectivity: Bluetooth | Range: Up to 390 feet | Dimensions: 1.54 x 1.54 x 0.39 inches | Battery: 1 replaceable lithium battery included with up to 1 year of use.
Chipolo One: A Solid Alternative Pick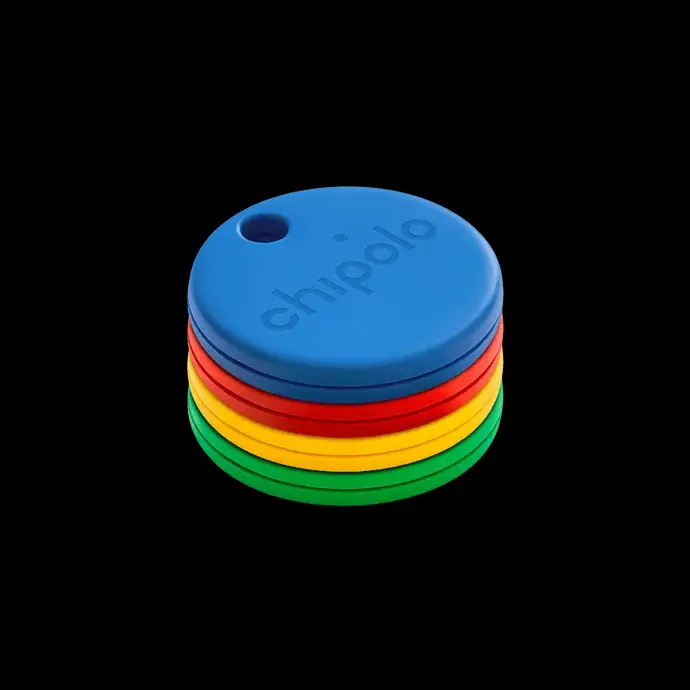 Why We Picked It
Chipolo One item tracker may go unnoticed amidst heavyweights like Apple, Samsung, and Tile. But, its simple design, bright colors, and plenty of free features make it a great buy.
The Chipolo One Bluetooth item tracker is here to add some color to the world of black and gray Bluetooth trackers.
You can score this six-pack of tracker chips (available in seven colorways), and pinpoint your luggage up to 200 feet away.
Best of all, you're not trapped on either iOS or Android. The Find My-powered Chipolo One Spot is a fantastic AirTag alternative too.
If you're a fan of Google's ecosystem, you can also get a Chipolo One Point (€34 at the Manufacturer site), which uses Google's Find My Device app.
Similar to the AirTag, this tracker has a community search network to help find your things when out of range, a loud alarm, and separation alerts come free with the app (unlike the Tile, which requires a premium subscription for that feature).
You can track your Chipolo with your phone or your phone with your Chipolo, and you can even use the tracker as a remote for your phone's camera.
It comes with an extra-long two-year battery life. The battery is not replaceable, so when it runs out, you must buy a new tracker.
Compatibility: iOS 12 and later, Android 7 and later | Connectivity: Bluetooth | Range: Up to 200 feet | Dimensions: 1.49 x 1.49 x 0.25 inches | Battery: 1 replaceable lithium battery included with up to 2 years of use