In the vast world of Mac optimisation tools, BuhoCleaner distinguishes itself as a uniquely lightweight, yet powerfully efficient software designed to keep your macOS in prime condition. With its emphasis on easy user interaction and robust functionality, it has quickly garnered attention and appreciation from Mac enthusiasts and received well by large publications.
---
Key Features
User-friendly Design: From the initial download and installation to actual utilization, BuhoCleaner ensures a straightforward and smooth user experience.
Compatibility: Fully optimized for macOS Sonoma and tailored to work seamlessly on M1/M2 Macs, BuhoCleaner aligns perfectly with the latest technological advancements.
Multilingual Support: With its wide array of supported languages, BuhoCleaner is accessible to a global audience, ensuring it caters to users from various linguistic backgrounds.
Efficient Cleaning Capabilities: The software proficiently cleans out various types of junk, such as system cache, user temporary files, and browser cache, liberating your disk space.
App Startup Monitoring(My Favorite): BuhoCleaner not only cleans but also helps monitor your app startups, ensuring a smooth and swift Mac operation.
File Deletion System: The confirmation dialog for file deletion and enhanced user experience in file management make it stand out.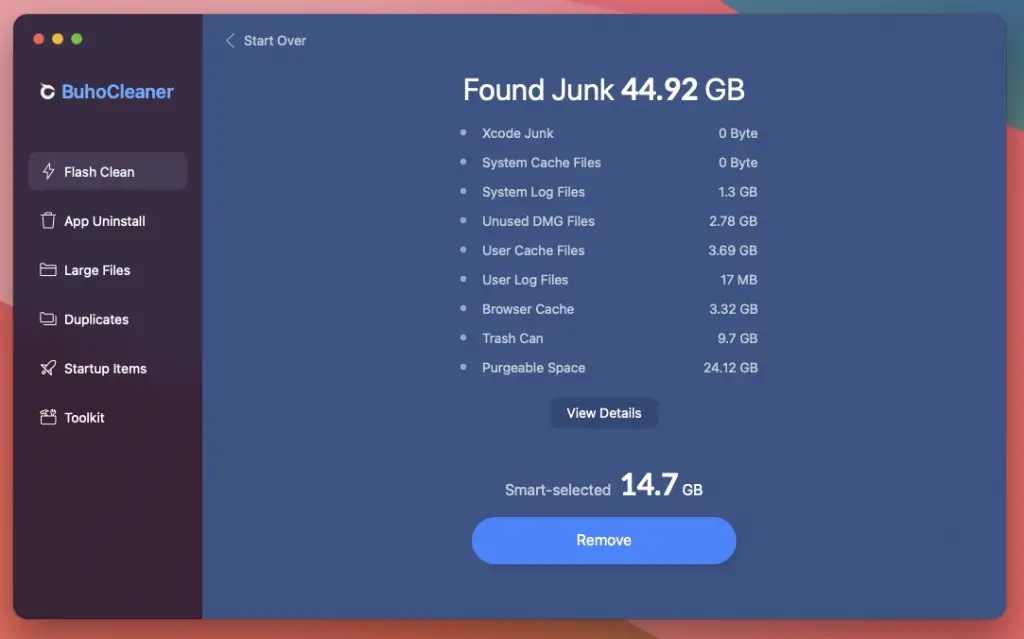 Ease of Use
BuhoCleaner's user interface is well designed, ensuring that users of all technical abilities can navigate and utilize the features effortlessly. The installation is a simple drag-and-drop action, and from there, the software guides users through its various functionalities with ease and precision.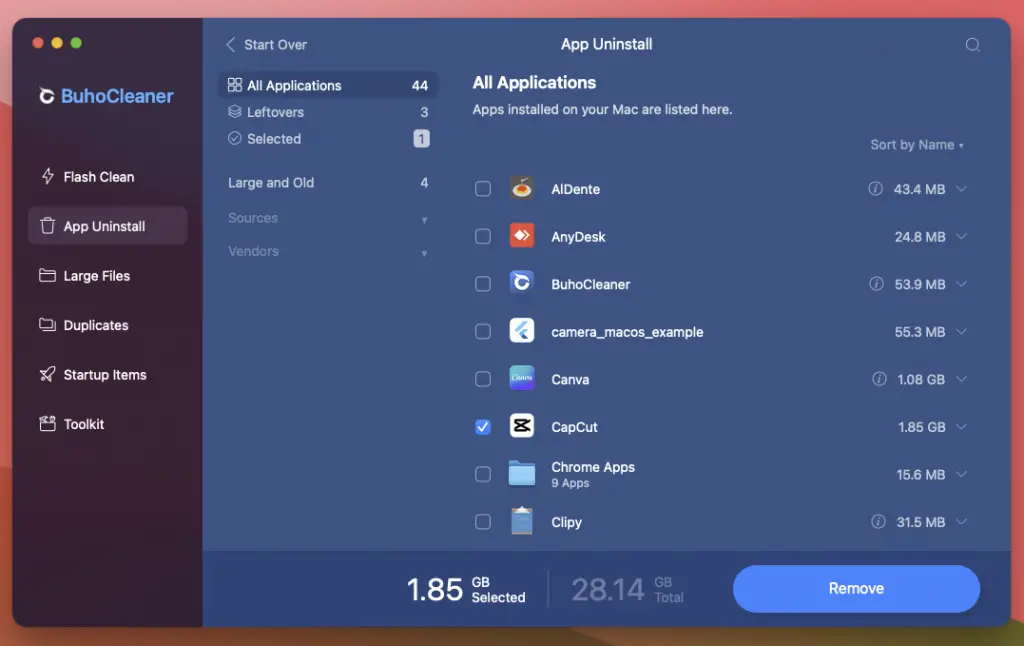 Performance
In terms of performance, BuhoCleaner does not disappoint. From freeing up space on Mac and uninstalling apps to monitoring app startups, each feature is executed promptly and effectively, ensuring your Mac remains optimized at all times.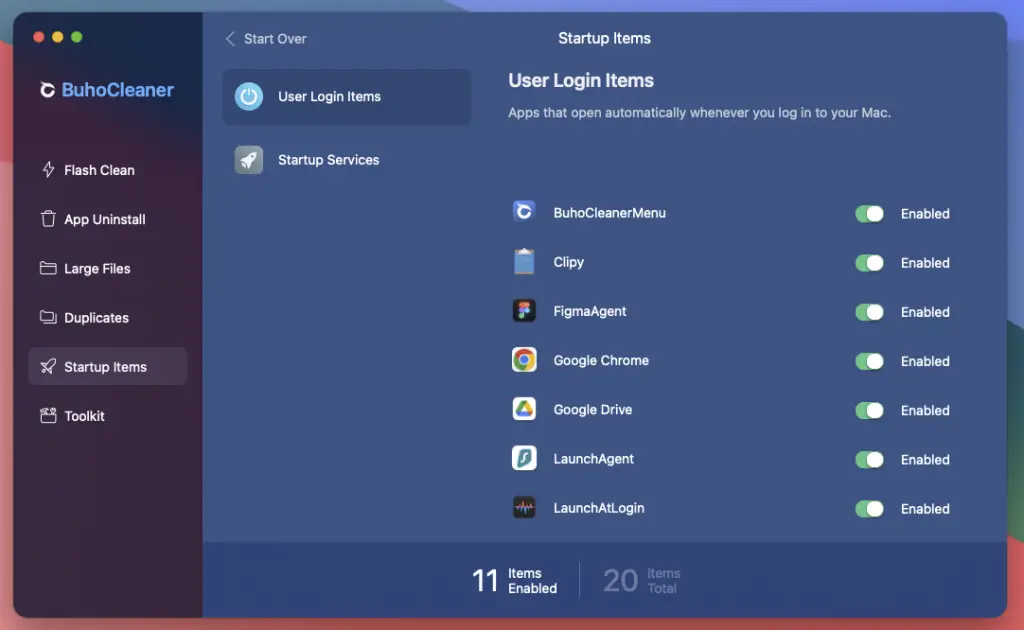 While BuhoCleaner provides robust functionality, some users may desire additional features, such as detailed insights into what is being deleted or real-time notifications about potential issues.
Support and Updates
The developers behind BuhoCleaner have shown a commitment to continuous improvement, as seen in their regular updates and bug fixes. Whether it's enhancing existing features or ensuring compatibility with the latest macOS, users can rest assured that the software remains up-to-date and supported.
---
Pros
Lightweight and Unobtrusive: BuhoCleaner operates smoothly in the background without hogging system resources.
Versatile Functionality: From clearing disk space to monitoring app startups, it offers a variety of tools to keep your Mac optimized.
Broad Compatibility: Supports a wide range of macOS versions and is optimized for M1/M2 Macs.
Multilingual Support: Caters to a global user base with multiple language options.
---
Cons
While BuhoCleaner provides robust functionality, some users may desire additional features, such as detailed insights into what is being deleted or real-time notifications about potential issues.
I'd like to see enhaned analytics and profiling where it shows me a timeline and overall statistics of how much data I cleared and when it happened. Similarly, for all utilities, some sort of data formation would be a great feature.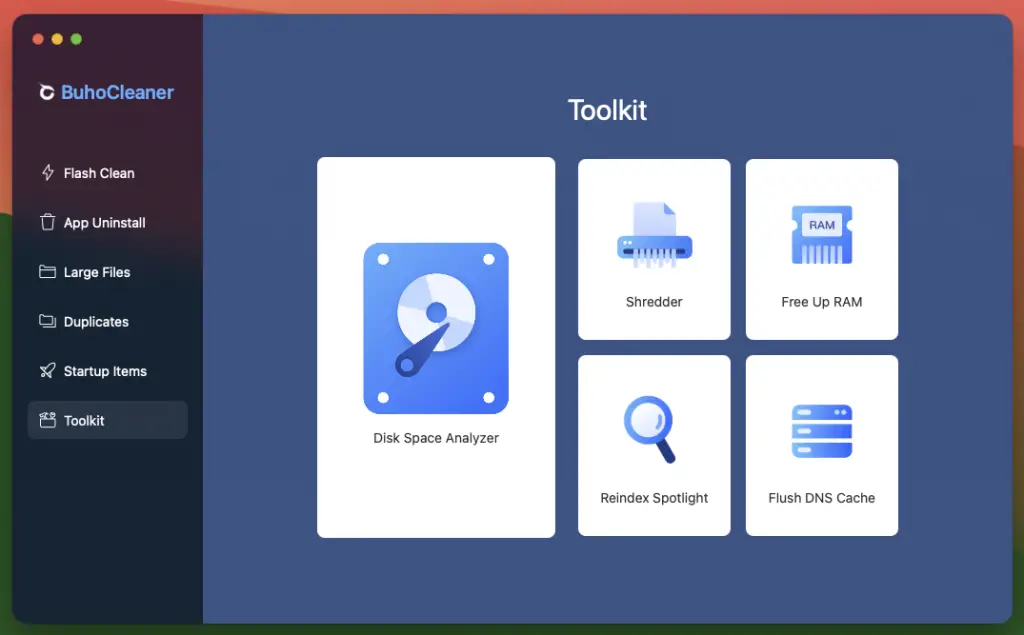 Verdict
BuhoCleaner emerges as a strong contender in the realm of Mac optimization tools. It amalgamates a user-friendly interface, diverse functionality, and impressive compatibility, making it a commendable choice for users looking to maintain a healthy and efficient macOS environment.
With a concentration on essential features like effective file deletion and app startup monitoring, BuhoCleaner not only meets the basic expectations but also brings additional value through its continual updates and steadfast support.
Rating: 4.5/5
Test Drive BuhoCleaner for Free
Curious to explore BuhoCleaner's capabilities? Enjoy a full-featured free trial and explore its powerful functionalities. Download Free Trial Here.
Enjoy a 30-day, no-questions-asked, money-back guarantee for peace of mind.
Trial vs. Full Version: The trial lets you automatically delete up to 3GB of junk files, while the full version, available for a one-time payment, removes limitations and includes lifetime updates and premium support.