Here's the disturbing part: The upgrade to the USB-C charging and Wi-Fi 6 in the Apple iPad 10-Gen 2022 asks you well over $120 more than the previous ninth-generation iPad which was $329. Not alone this, the lack of a laminated screen, lack of support for 2nd-Gen Apple Pencil support, lack of a headphone jack, a stingy 64GB storage (in 2022), a two-year-old A14 chipset, lack of the Stage Manager windowing feature, and chunky bezels make the Apple iPad 10-Gen 2022 sit in an odd spot, knowing that you still get the $499 iPad 10-Gen without the much-needed Apple accessories ($9 new dongle adapter & a staggeringly expensive $249 Apple Magic Keyboard Folio), would then otherwise be not quite useful. In conclusion, the new iPad 10-Gen is sufficient for some but pretty silly for most. 
(phew)! Seems Like A Tough Sell, But Apple Will Get Through It Anyways
It is a tough sell, though, many people still like the new iPad 10-Gen for its array of candy colors, fast performance, reliable battery life, better design, front-facing camera, and two proper stereo speakers on both sides.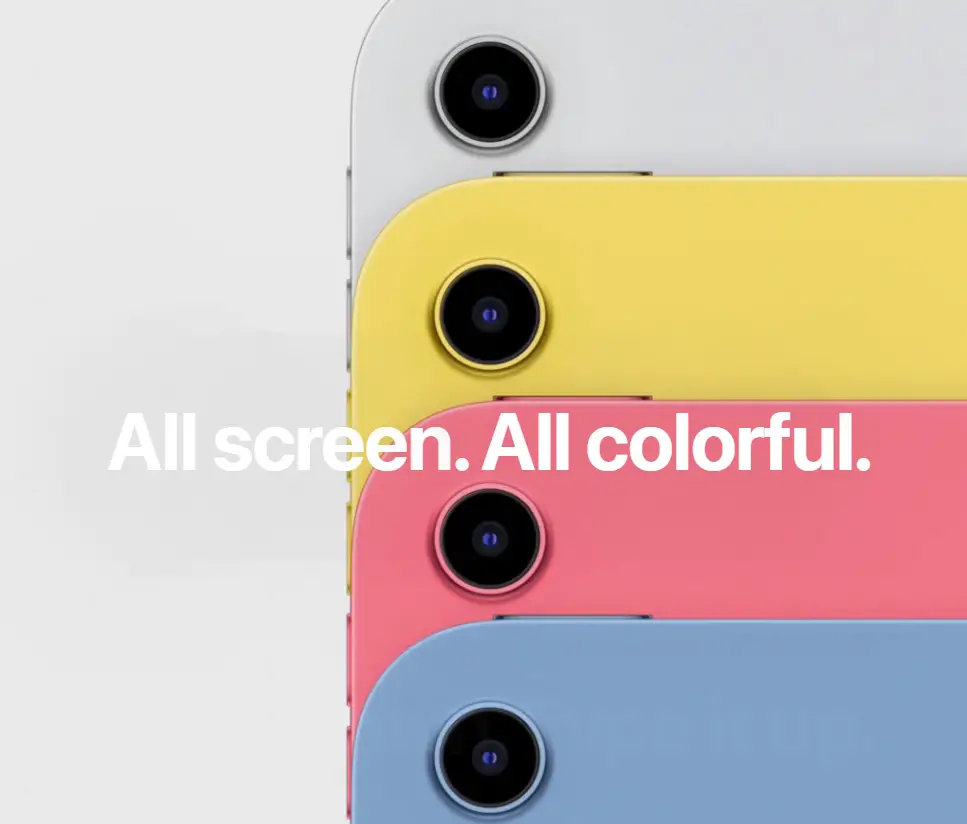 But, along with those upgrades comes a nasty price, $449, when you know it is just an entry-level iPad with no qualifier after its name, and the one that most of you buy for kids, schoolwork, travel, media consumption, and something that doesn't even replace a laptop. Let's say you force it to be your (on-the-go) laptop, you would then have to spend an extra $249 on Apple Magic Keyboard Folio, and a $9 dongle adapter which means you'll be paying $707 or kit out to over $1,000 with more storage, cellular, and accessory upgrades. Doesn't this scare you?
I mean for this kind of money ($700 to $900) you get a pretty nice MacBook Air (M1). Now, Apple knows all this, so they keep selling the ninth-gen iPad for $329 in their official Apple Store. The ninth-generation iPad is a lot better, smoother, (dollar-friendly) and I mean a nice tablet overall to do basic iPad things. 
If the ninth-generation iPad is certainly good at almost anything that you throw at it, then the new iPad rests in a weird spot. Sure, it'd be better than the 9th-generation model, but is considerably more expensive, and lacks a little behind the Apple iPad Air. Since you can find an Apple iPad Air on sale fairly easily, the new iPad 10-Gen is not the right Apple tablet to cruise for despite the fact that it has so much to offer.
A Couple of Head Scratchers 
The 2022 Apple iPad tenth-generation does not get Stage Manager. Not that Stage Manager is precisely good at resizing windows for multi-tasking or anything, but this could be useful in Apple iPad 10-Gen for people who want to use USB-C, plug it into an external monitor, and get a little bit of Windows Management or multi-tasking going on. Weird!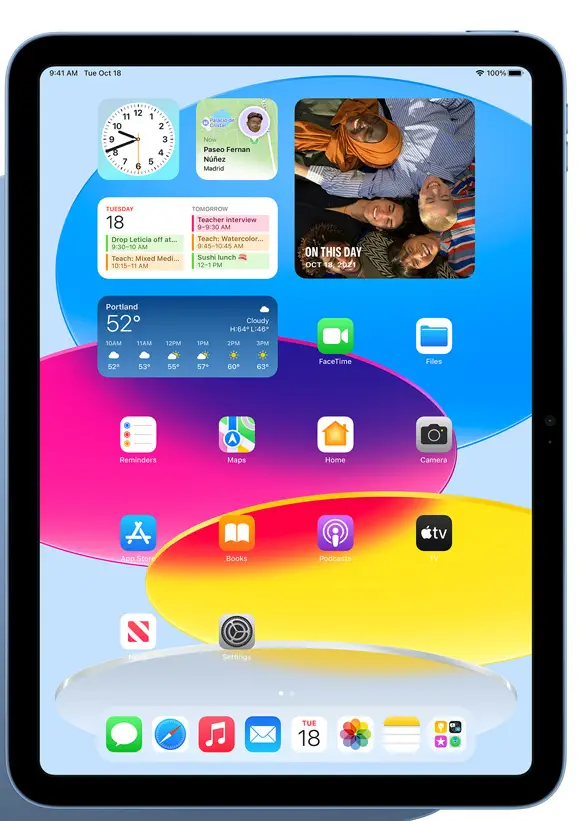 The even bezels, and squared-off tapered design as well as the home-buttonless design make the updated design look more modern. However, we also feel the new iPad 10-Gen is a very clone of the last two iPad Air models with the same size display and chassis measurements, but with some millimeters of difference in size. The difference means that the fitted cases or ones that you've been using for the previous iPad model can not adjust to the new iPad 10-Gen easily. Therefore, the new design doesn't grasp my breath at any particular instant. It just looks like an iPad.
Candy Colors and More Modern Design Is Not A Safe Bet – Yet!
I should, though, admire that this new model has an excellent fit and finish that is smooth, and feels nice to hold and interact with. Apple introduced four new, exciting and fresh colors that feel like a cosmetic change. It sells iPad 10-Gen in an array of candy colors: silver, blue, pink, and yellow.
Apple has reportedly marketed the new iPad-10 Gen as an "all-screen design". I agree it is a lot better than the previous model, but the front of the frame is not all screen. There is a considerable bezel area framing the display. It is a good idea to provide a place to hold the tablet, but the frame is still far from edge-to-edge
The camera is Finally Adjusted. God Thanks!
Talking about the camera, Apple has thankfully relocated the from-facing camera to the long edge of the screen which makes video conferencing and virtual meetings a lot easier. The change is good news to a lot of people; this way they won't have to stare to the side during Zoom calls. Appreciated Apple!
The camera itself is considered fine. It still supports Apple's self-centering Center Stage feature, but I think the camera is placed in the right spot making it not necessary to use the Center Stage feature. Hence, a safe bet!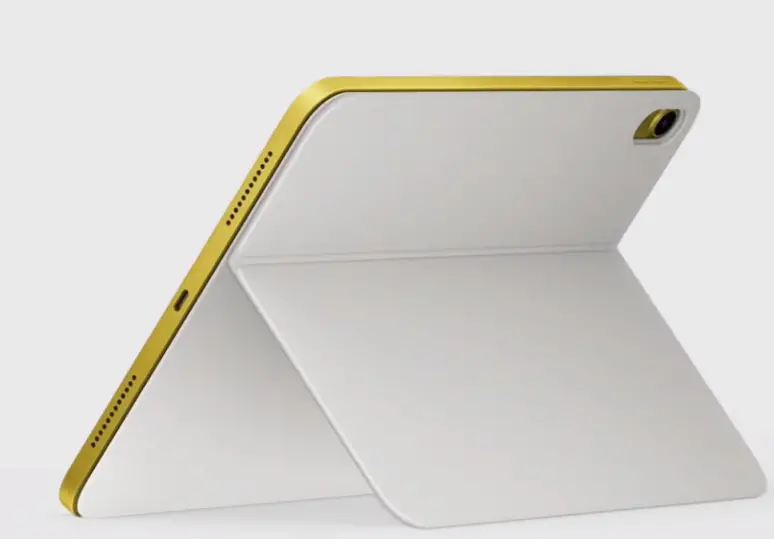 Can the Display Be Any Further Good? (Yes). But Is It? (No)!
I do like the larger design which stretches out to 10.9 inches diagonally from 10.2.  It is so comfortable – believe me – to binge-watch movies, read books, and play games. However, the screen is not laminated. The lack of a laminated screen at one spectrum is arguably the best thing for any basic-level iPad for its easier repairability. However, the lack of laminated display results in a screen with more reflections, a noticeable gap between the glass, and the LCD panel, and shifts in the brightness when you view it off-axis. So, why is it a reason that puts the new iPad 10-Gen in an odd spot? At $499, it is a lot tougher to excuse a laminated display while at $329, it would be forgivable.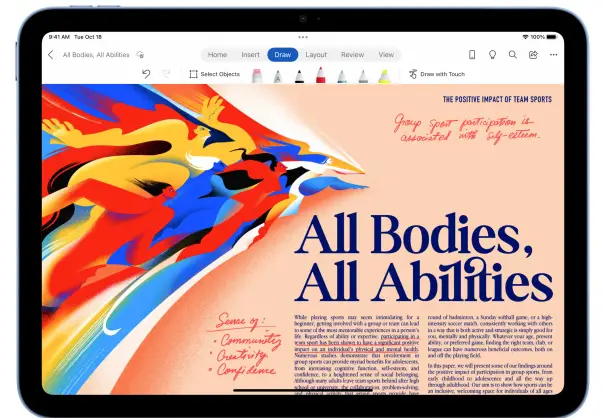 Apple "Upgraded" The iPad By "Removing" The Headphone Jack. (Cool)
One of the "upgrades" is the removal of the headphone jack. This meant a lot to a lot of people. Think of it; schools or parents buying the entry-level iPad for kids not finding a universal way to plug in standard wired headphones will find it frustrating, even devastating. Apple again wins at marketing its USB-C to 3.5mm wired headphone adapter that will cost you another $9. 
The 10-generation iPad gets a whole new keyboard which Apple calls the Magic Keyboard Folio. The typing experience on Folio Keyboard is excellent. The keys have the same amount of travel as Apple's Magic Keyboard and they are quite comfortably spaced apart. The trackpad feels nice to use and is slightly larger than the one on the Magic Keyboard.
This year's keyboard gets a function row with quick access keys for things like media control, volume, and brightness adjustment. But, the lack of backlighting doesn't make any sense, especially at this price point.  
The keyboard is easier to pull off from the iPad while the kickstand will hold the tablet up for doodling, movie watching, or game playing with a controller. However, it doesn't feel stable on the lap. It is not as comfortable as a Magic Keyboard or a proper laptop. Either you bring in more magnets to hold the keyboard in place better, or use the keyboard Folio on a desk or table. 
One thing that puts me off is the limitation on how far back the kickstand can travel. You can't push it down to a 20-degree angle that is at most ideal for drawing, doodling, or writing like you would on many other keyboard cases of this type. 
Also, the white color on the Apple Magic Keyboard Folio is something you need to be careful about. So, be mindful when crunching on Cheetos next time!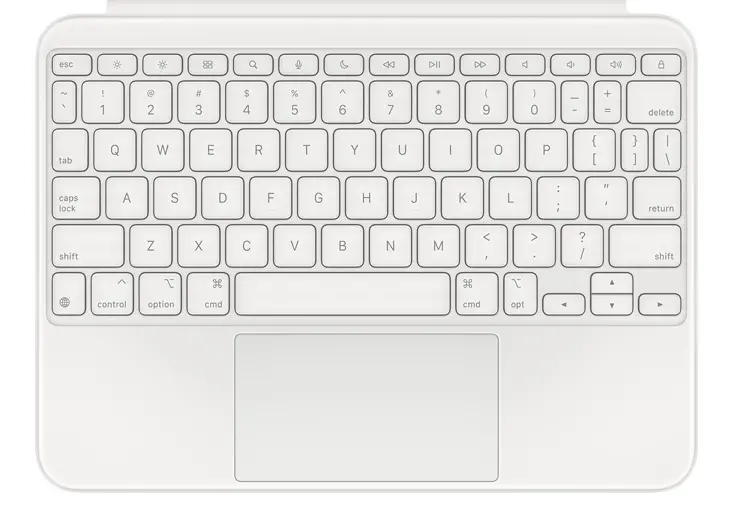 The pencil Situation Doesn't Sit Quite Well For Some Segments Of People. Okay, Apple. No Issues!
The 10-Gen iPad doesn't work with the second-generation Apple Pencil. It works with the 1st-Gen only. Since, the new iPad doesn't have a Lightning port anymore, pairing and charging the $99 Apple first-gen Pencil requires a new $9 USB-C to Lightning adapter. 
Since the new iPad almost resembles the iPad Air and Pro, it could be compatible with the second-generation Pencil, you are stuck with a messy and easy-to-loose adapter and a charging cord. 
I have some light complaints about the first-generation Apple pencil. It does not support things like a double-tap switch between writing and erasing. I do not really like the glossy surface as the matte finish on the second-generation Apple Pencil. Also, the circular design makes the pencil roll off a desk which makes the pencil a little risky to keep on the desk. 
Although, I need to appreciate the first-gen Pencil: a very little lag and a smooth stroke. It has good sensitivity and tilting support which is good for art and drawing purposes. However, the tip is a little hard which makes it slightly uncomfortable to write on the screen compared to Samsung and Microsoft's softer-tipped style. 
Well, for those who have 1st-Gen Apple Pencil and are looking to upgrade to the new 10-Gen iPad, the older stylus will work with the new one. But, I wish Apple could have designed the iPad to work with the newer, second-gen iPad and let users choose which stylus to use for their slate. 
Under chassis, the new iPad 10-Gen uses the two-year-old A14 Bionic chip, the latest Wi-Fi 6, and 64/256 GB of storage. Sure, A14 is not as blazingly fast as the M1 or M2 SoC, but, you won't really find any difference. You will still run multiple apps side by side jumping from tasks to playing games like Genshin Impact – all fine. 
Everyone should understand that all iPads perform effectively the same for day-to-day tasks. If you are shifting from the previous model then you might feel a faster experience. However, you'll have a great experience with the $520 A13-powered 9th-Gen iPad. 
I mean like it's very similar to other modern iPads. You'll rarely find anything that your iPad will not execute. The battery life is phenomenal. It will last about 10 hours or more for basic tasks and closer to 7 if you use it for office productivity work or other complex tasks. 
Another useful thing is the optional sub-6GHz 5G support. It's more useful when you don't have Wi-Fi available. However, you would have to pay $150 for it. And, at that price, you might want to consider an iPad Air. 
It Runs iPadOS 16 But is Updated From Previous Versions. Well Done!
The new iPad 10-Gen runs iPadOS 16. It has features like editable iMessage, live text for video, and the ability to pull a subject out of a picture and place them into another app. Stage Manager, however, is missing in iPadOS 16 on this mode. Stage Manager is mere, a feature used to adjust the display scaling to a smaller size. Well, it is not a big deal to not have Stage Manager because it is felt as not a great experience in its current state. So, it is a safe bet!
So, if I conclude the iPadOS in simple terms, it is a straightforward and easy-to-use Apple ecosystem for not-so-intensive work like playing games, watching movies, emails, or reading. Yes, you might feel a jerk when using it for multi-tasking and heavier workloads compared to a laptop or iPad Pro. 
Also, the 10.9-inch screen might not really impress you when you work with longer documents and multiple apps. It will feel all cramped as you work for longer hours and it may put a strain on muscles and eyes. Uh, I don't really think people would replace their laptop with an iPad at this level and if they do, for some reason, then they are likely to be light users. Kudos to them!
Apple Is Going Good At Entry-Level iPad But Not Great!
I think you would better relate this with me: Entry-level iPads should support more than one user account because these iPads are often shared devices in homes. Even the most basic Android tablets do support multiple users like parents and children. We hope Apple incorporated multiple users into its next lineup.
(GASP!) So, What Do I Do Now
Look, these complaints are not too speculative. If Apple had to sell only this model, everyone would go around crazy and it is true. The 2022 10-Gen iPad is impeccable, but with the swarm of Apple iPad lineups, we can pull the strings and do a critical analysis so you can unclog your mind and go for a better decision. 
Even though the screen is not as good as other iPads, it's still good enough. If we look at the features and price set of this product, I'm not really getting why you'd pick the new 10-Gen iPad. If you want a headphone jack, a better screen, faster performance, and all for a less price, the ninth-generation iPad is still there waiting for you. 
On the flip side, (IF YOU WANT) a MUCH better display, even more, faster processing, and an overall better product (that's thin and light and more serious in performance) in the Apple iPad lineup, the Air should be your next prey. 
If Apple adds the headphone jack back, reduces the price a bit, and replaces A14 with A15, then the $449 would really appeal to people. Until then, the 10-Gen iPad sits in an odd spot for something that's supposed to be a budget-level tablet, midrange, and mostly be flipping in the hands of children.