Just one week after the release of iOS 16.1.1 Apple released iOS 16.1.2, which comes with bug fixes. Also, it's been just three weeks after the launch of iOS 16.1, an update that added support for iCloud Shared Photo Library, Matter, Live Activities, and more.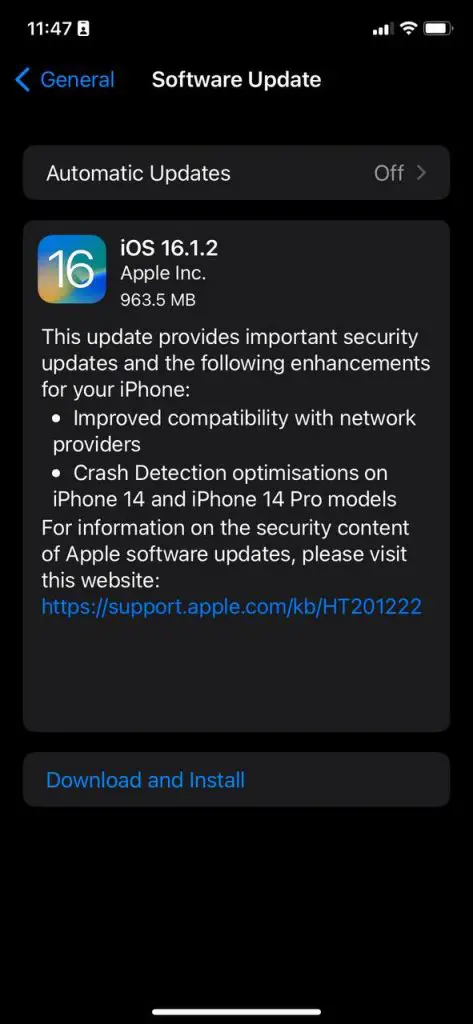 What's New in iOS 16.1.2?
As per release notes by Apple, iOS 16.1.2 includes:
some security updates,
improved compatibility with wireless carriers
And improvements to crash detection for the iPhone 14 line
Here's how to download the latest update.
Open Settings.
Tap General

Tap Software Update.

Tap Download and Install and follow the on-screen instructions.
This is what I think iOS 16.1.2 will change
As you all know that users complained that ‌iPhone 14‌ models started calling emergency services when enjoying rollercoasters and other intense rides.
The same thing happened to me too as I was with my family and had my best and first rollercoaster ride in the Cyclone Roller Coaster in Coney Island NY. So, when I was done with the ride I checked my iPhone 14 Pro there were 911 calls.
However Apple clarified that the feature uses G-force sensors combined with other data to detect a crash, the company acknowledged that G-force on a roller coaster could fool the system so, the latest update may resolve this issue. Also, Apple will be releasing iOS 16.2 as there already have been 4 betas for developers to test which includes a wide range of features.
One more thing, since the release of the iOS 16 my iPhone's battery has dropped to around 8 percent so, be careful with that before updating until there's an iOS 16.2
Would you update to iOS 16.1.2?
Let me know in the comments section