As important as it is to know how Apple AirTags work, it's essential to know how to check the AirTags Firmware version. As with other Apple products, Apple routinely issues over-the-air firmware updates for AirTags.
These updates are critical for your $29 waterproof Bluetooth item trackers as keeping up with the latest AirTag firmware version keeps you enlightened about changes and features included in the firmware updates for your AirTag.
For instance, Apple in June 2021 released the first ‌AirTags‌ firmware update with anti-stalking security enhancements that decreased the intervals in which an AirTag separated from its owner will play a sound.
Therefore, in this article, you will learn specifically about:
How to check if your AirTag's firmware is updated to the latest version
How to Update to the latest AirTag firmware
Here's how to check your firmware version
Open up the Find My App.
Tap on the "Items" tab.
Tap on the AirTag that you want to check in the list.
In this view, tap the battery icon for the AirTag — this will display the serial number and the current firmware version.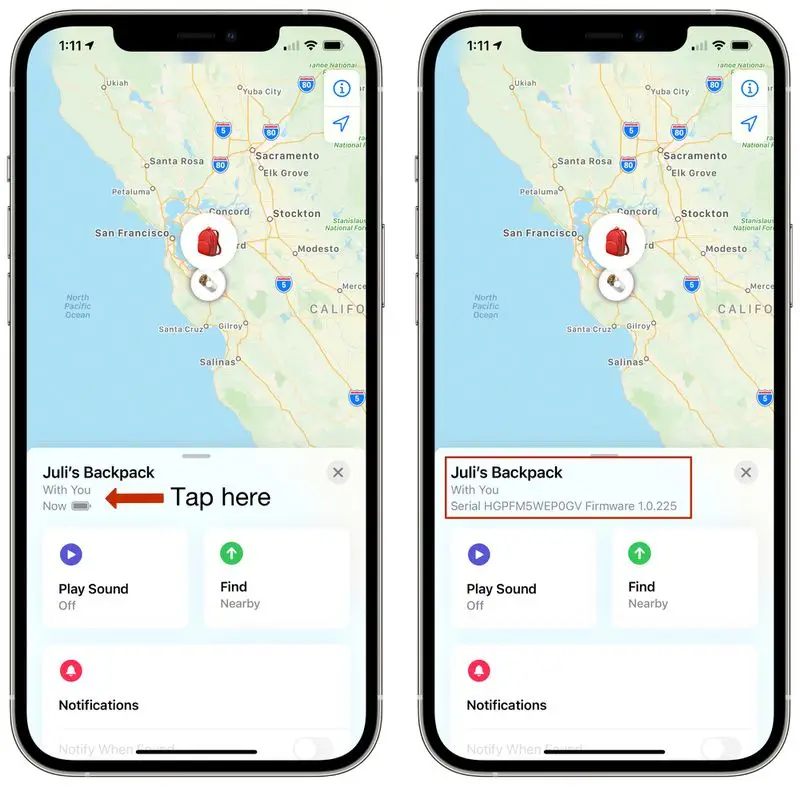 Note: You can not force an AirTag update, as it's something that's done over the air through your iPhone. To ensure you have the latest AirTag firmware, wait for the firmware to roll out to your device. Once it is there, make sure that the AirTag is in the range of your iPhone.
What is the latest airtag firmware?
Apple says the latest firmware update is 2.0. 36. This firmware update resolves an issue with the AirTag accelerometer not activating in certain scenarios.
How do I update my AirTag firmware?
To update your Apple AirTag, make sure that you have iOS 14.5 or later.
AirTaf firmware updates are delivered periodically while your AirTag is in the Bluetooth range of your iPhone.
Do AirTags automatically update?
There's no intuitive way to update an AirTag. Apple says that the item tracker is automatically updated when it is in range of the iPhone.
How often does Apple AirTag update?
If your Apple Bluetooth tracker is in a busy area where there are lots of iPhones coming and going, its location may be updated as frequently as every minute or two.
How do I get my AirTag location to update?
The item's location is updated when it connects to the Find My network.