If you dream to write the best sales copy like Apple, embrace the use of tiny words.
These tiny words need to be:
Mystical
Magical
Divinely Smooth
Let's see how Apple deploys all of those to write the best sales copy ever written.
In fact, I call it Microcopywriting!
Let's mine what this is and how Apple uses it to write seductive sales copy.
Apple Copywriting tip 1: Make Your Copy Delighted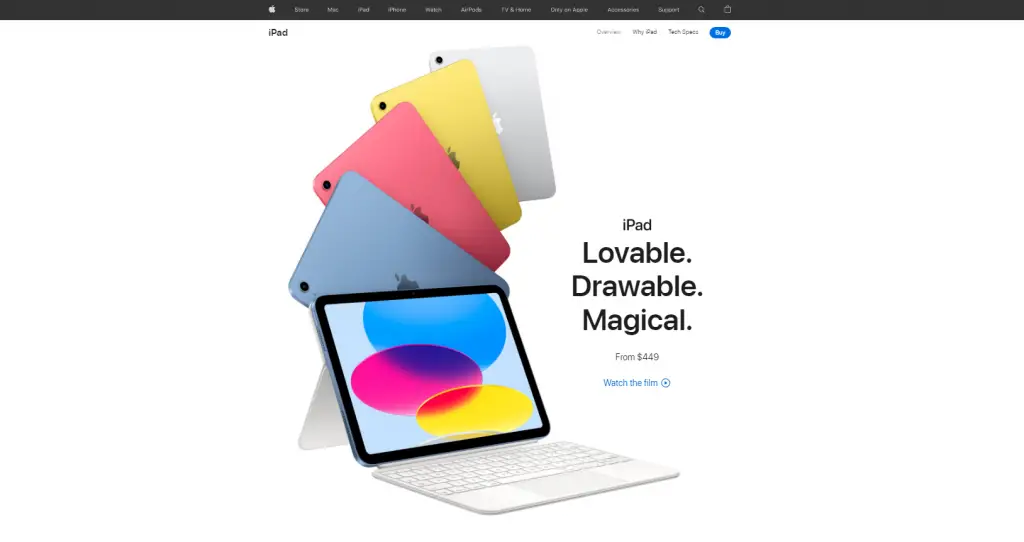 Lovable. Drawable. Magical.
These words say it all.
You can feel the delight
You can feel the art
You can feel the surprise
You can feel the excitement
You can see how the "able" repeats twice.
And, then the "cal" disrupts the rhyme.
Most copywriters would have repeated the rhyme a third time.
Apple didn't.
Instead, Apple threw us a lucky accident feel.
Absolutely world-class!
This is how we should learn how to write creative copy that sells.
Apple Copywriting tip 2: Address Struggles. Then Resolve Them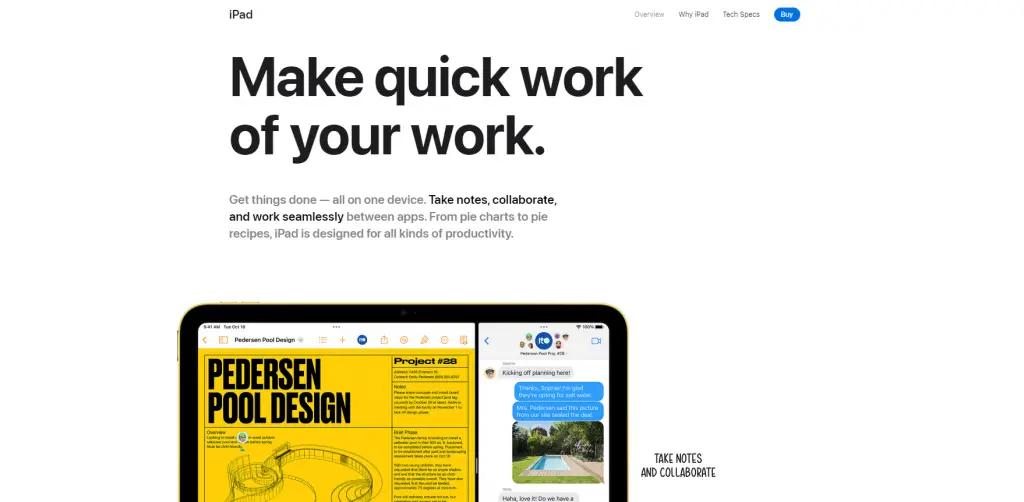 Apple realizes our struggles
Apple calls out those struggles
Finally, it resolves them
People don't hate working.
They hate struggling
They hate fiddling around cluelessly on something that matters
Apple simply gives them the escape route.
An escape from being stuck on a slow laptop.
Apple Copywriting tip 3: You are the Hero. You're in the Spotlight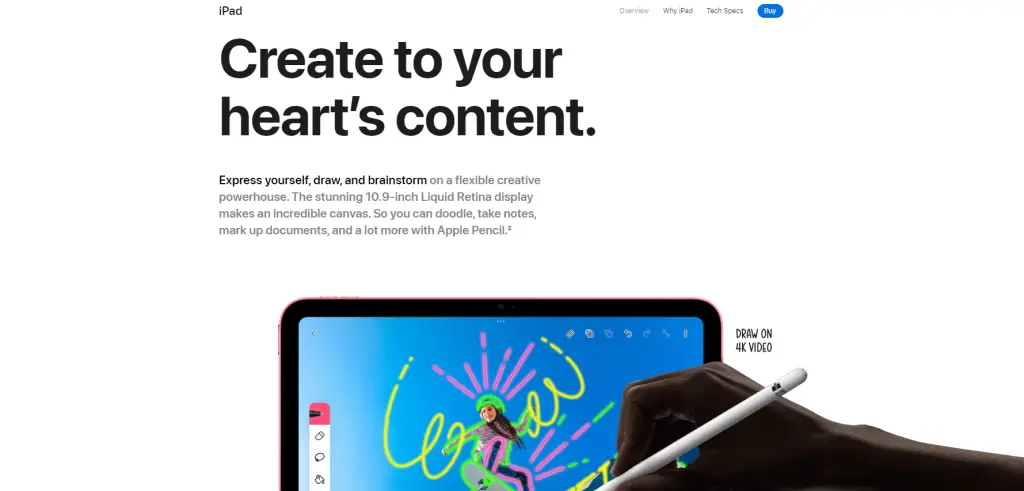 Create to your heart's content.
Apple did not brag about its iPad.
It puts the spotlight on you.
It brings you into its story.
This gesture makes you feel elevated, honoured and valued.
Here Apple is making you imagine yourself using the product before anything!
Here's another groundbreaking example.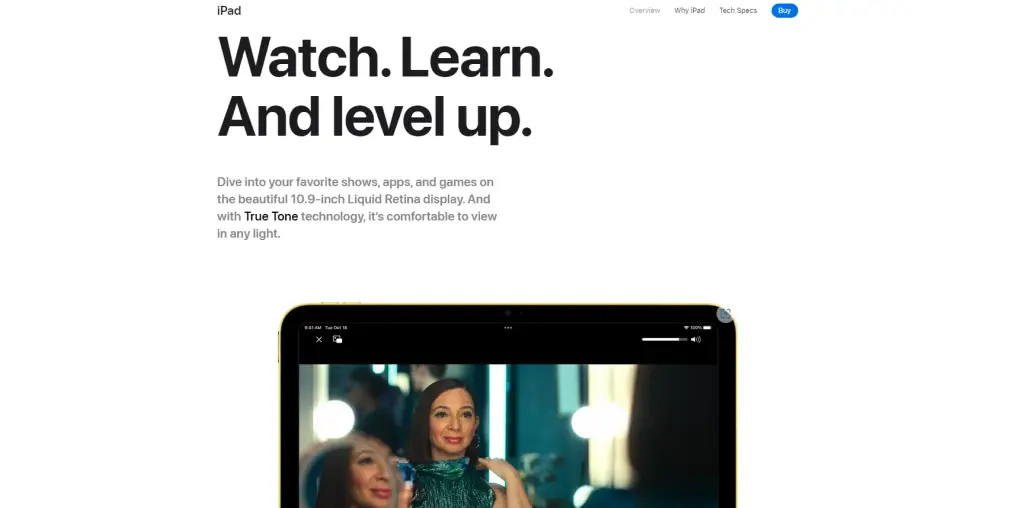 Watch. Learn And level up.
See how ingeniously Apple talked about learning and levelling up your reading experience or similar.
It did not specifically mention X number of pixels or Y number of resolution depth.
The reader itself understands that the display is as good as we want it to be.
And, that's how we level up ourselves.
This is an example of copywriting that sells.
Tiny Words. Powerful Message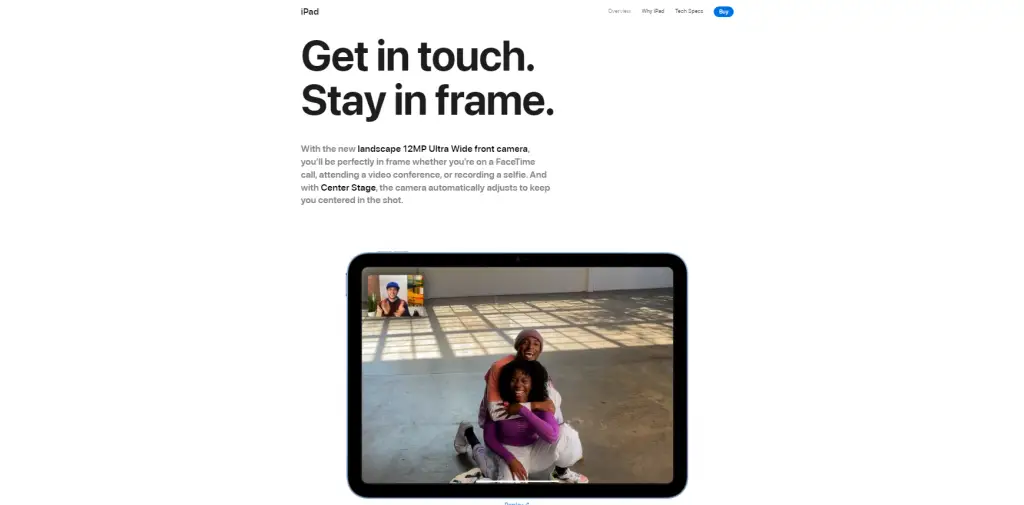 Apple never uses big words.
Big words add create complexity. Or. exclusivity.
Apple does not like this.
Tiny words are:
Easier to read
Easier to grasp
Harder to skip
We are readers.
And.
Readers are toddlers.
We like smaller sentences, tiny portions, and piecewise meals.
Apple knows this.
So, their copywriters make use of punchy two 3-word sentences.
Here's another example of copywriting for products.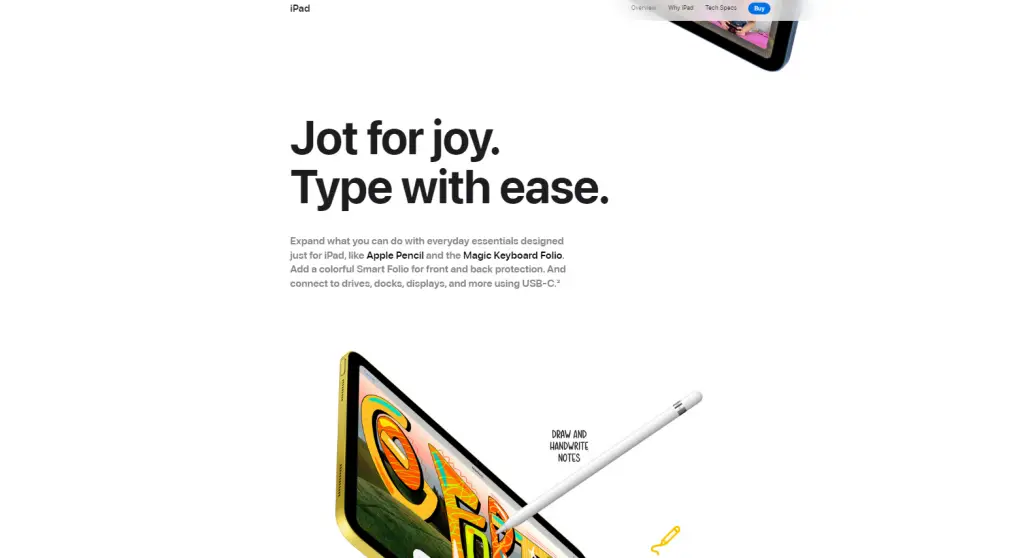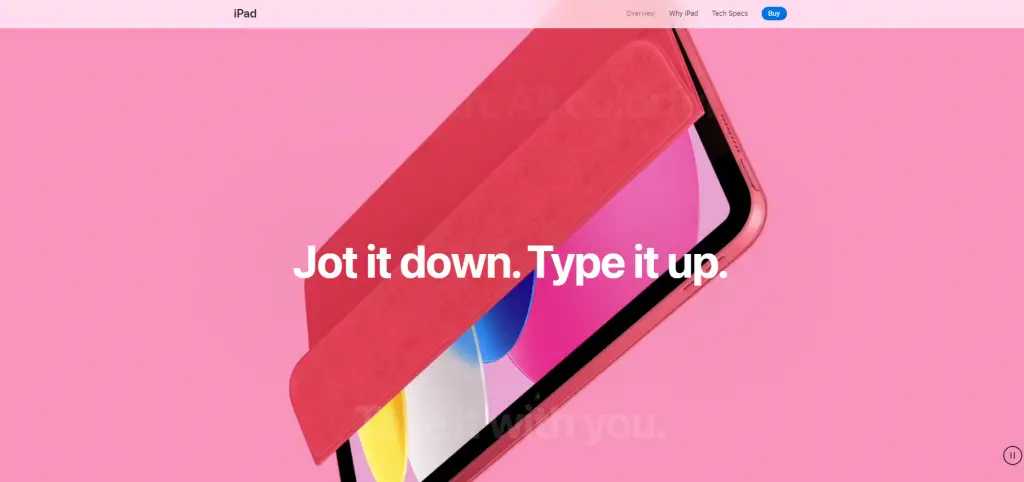 Oh. So. Pro!
Carve New Sounds Within Words
First, read out the words – loud – to yourself!
Listen for nuances in the sounds.
And see if you could carve new sounds within words.
Here's an example of how masterfully Apple copywriters have pulled off this working technique!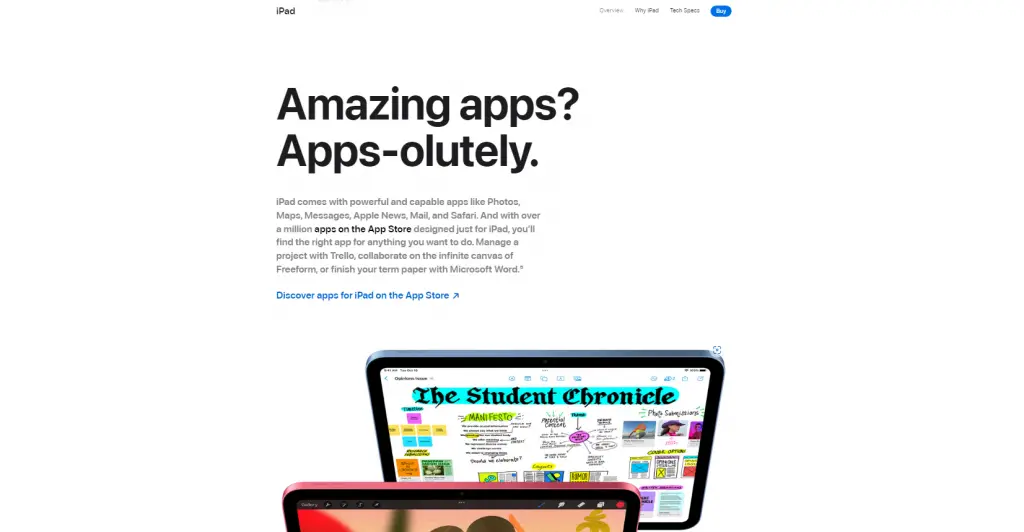 Apps-olutely!
Notoriously Ingenious. Isn't?
Here's another magic behind the word 'apps-olutely'.
Notice the three characters 'App".
This also makes you realize the first three letters of Apple.
Doesn't it feel like a lucky, impeccable accident?
This is called Micro-copywriting.
This is called Apple copywriting.
Here's another impeccable picture: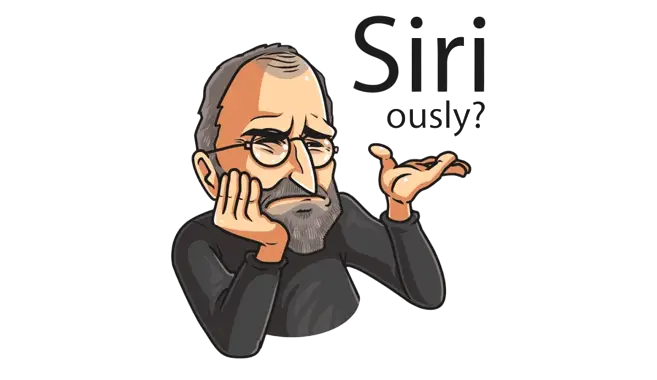 This is the best way to learn how to write great marketing copy.
Exceptional Marketers Turn Features Into characters
Here's how Apple copywriters do this:
They turn a given set of features into characters:
Here's how: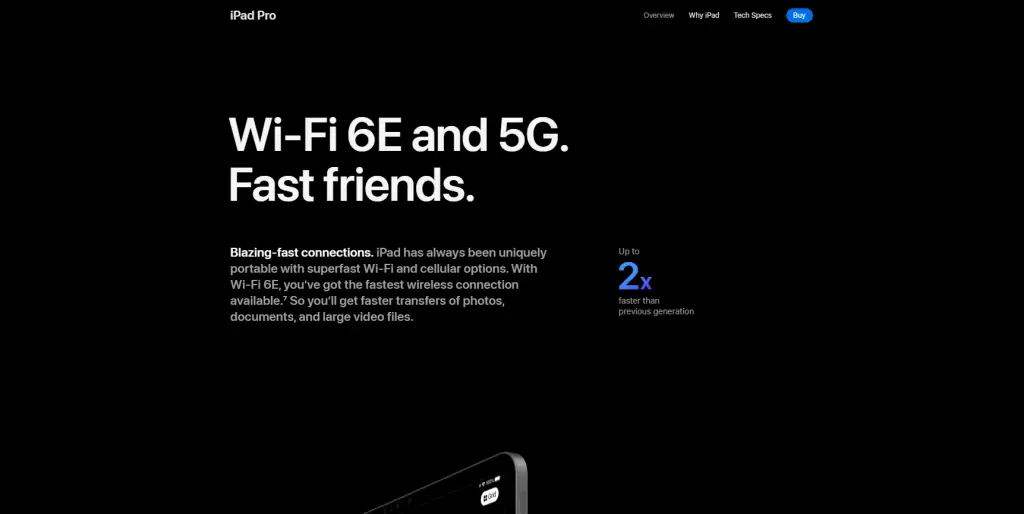 Apple simply turned features into characters with personification.
They paint Wi-Fi 6E and 5G as fast friends.
To some 6E and 5G sound almost like an alien – completely unknown.
But, blending them as friends, make it look like a real thing.
Simply awesome!
Ask Questions That Matter
Ask brilliant, yet simple questions.
See Apple in action.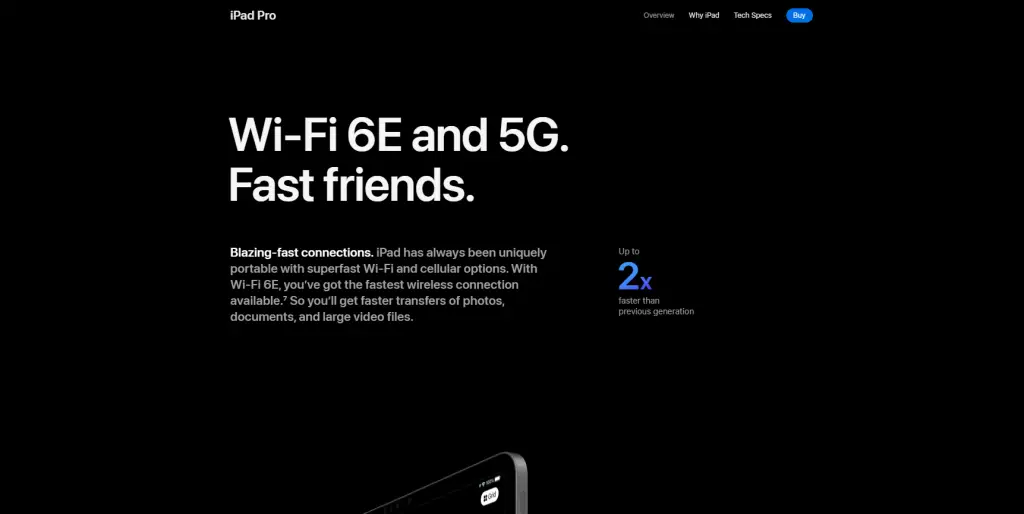 Here Apple has masterfully app-lied its ingenious, non-pushy pitch to narrow down its customer choice.
It lets you decide which iPad product is good for you
It lets you imagine yourself using the product
Apple takes the focus from its product over to you
Finally, narrows the choices for you
So?
Apple uses tiny words, known as micro-copywriting to:
your attention, focus and drive you to take action.
More than the copy itself, Apple shows us how you can use rhyme and bring the effect in single most effective words.
It blows away the complexity in the most fun and simple way.
Apple meticulously uses these tiny words that are divine, effective and awe-inspiring.
…Making us take action.