Apple deploys the most powerful, most potent, and most lethal weapon to get people to buy the new iPhone.
What is it?
Or what is the copy like?
These are the subtle psychological trigger words that make up a seductive website sales copy like Apple.
These are great examples of a catchy copy.
We also crown it as the best sales copy example that is also great marketing copy.
I call it Micro-Copywriting! `
And, it is not any copywriting that we think we are good at.
These are the most effective, most powerful, and most fascinating copywriting tricks from a multi-trillion-dollar company.
These are the examples of best sales copy ever written.
Here Apple website copywriters captivate your attention.
And, these great marketing copywriters then fascinate, engage, and persuade you to buy the new iPhone.
The best part?
You can also learn to write seductive sales copy like Apple.
I'll help you learn realistic copywriting techniques that Apple deploys in their words.
Here you will learn how to write like Apple website in the most seamless and subtle way and not bore anyone, anymore.
You will learn how to write a seductive sales copy like apple to build up that spark.
You'll also learn how to write like Apple copy to punch up your next project.
"Apple Deploys Micro-Copywriting To Write The Most Seductive Sales Copy"
Great copywriters write great sales copy, copy like Apple.
Great copywriters use the subtlest trigger words that capture the heartbeat of their target audience.
Great copywriters use the smoothest pleasurable phrases in the English language that play the strings of our egos over and over and over again.
Intuitively, this may be the best sales copy ever written.
And, Apple has shown us how to write engaging copy.
"Apple Deploys The Most Seamless, Microcopy Lines To Sink You All In"
Let's crack the code by analyzing the new iPhone 14 Pro Max.
Let's see how studying Apple's iPhone 14 website copy can teach us how to write persuasive sales copy like no one – but – Apple.
Let's see if you can I can learn the techniques and turn doubters into buyers, and gain more sales.
Let's sink into it and learn how to write great and engaging marketing sales copy.
It's All You, You You, Not Apple

1. "You" is the most Subtle & Fundamental Word that makes you the hero in Apple story line
It's You, You, & You and no one else.
You are there at the moment and Apple treats you in the most honourable and glorious way.
Apple uses the three characters "YOU":
94 times on the iPhone 14 Pro landing page
90 times on the iPhone 14 landing page
So, it's not any photo – it's YOUR photo.
It's not any font – it's YOUR font
It's not any widgets – it's YOUR widgets
It's not any iPhone – it's YOUR iPhone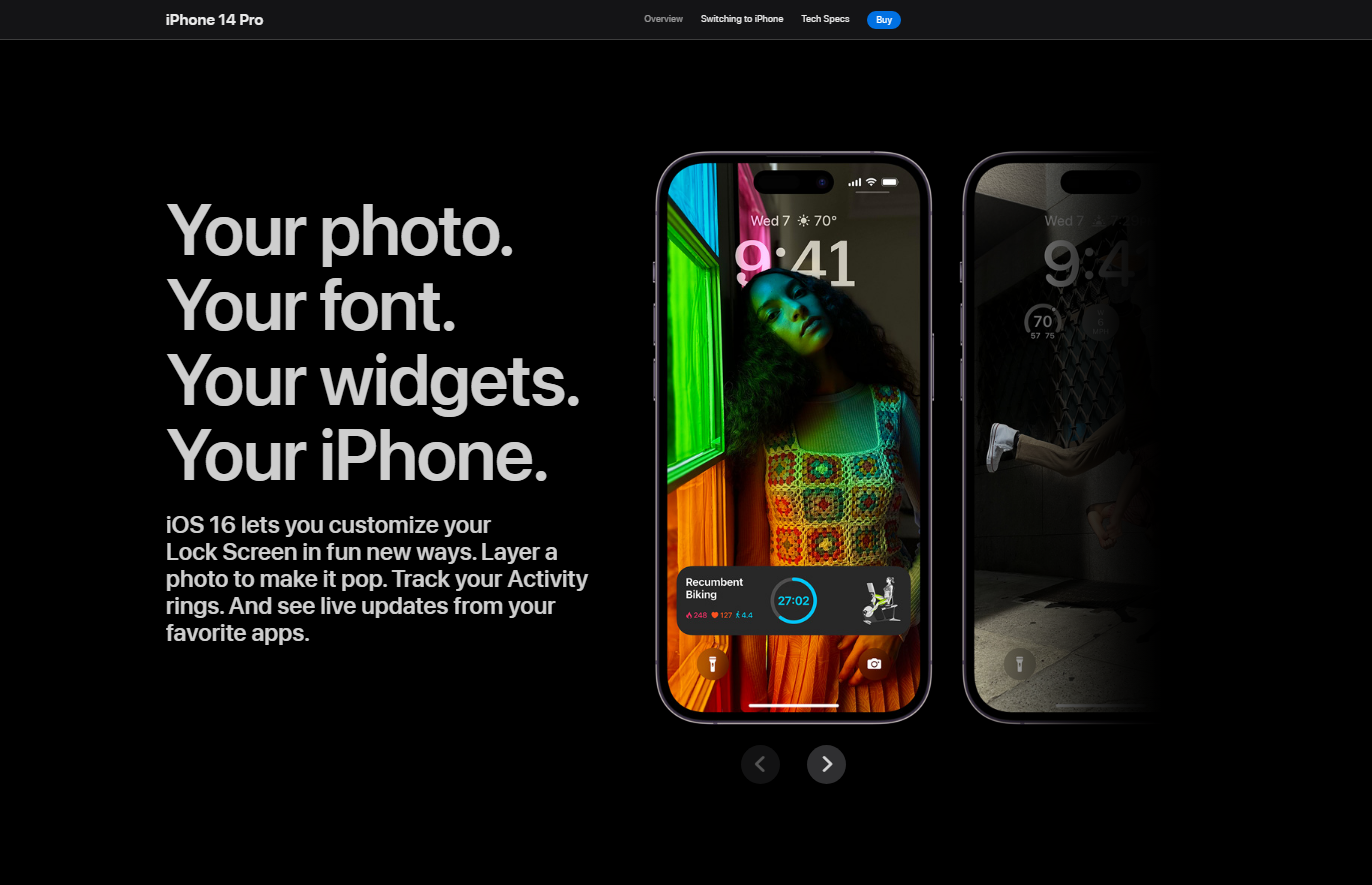 So, it's the one, subtle distinguisher, three letters "YOU".
It's YOU that creates a sense of security.
It's YOU that stirs your egos.
It's YOU that makes you emotional.
It's a home screen that YOU can call home.
This is what makes you feel pleasurable.
As a result, it feels like it is the best sales copy.
Safety, A Primal Need

Apple knows it and it plucks away that fear by giving us "peace of mind"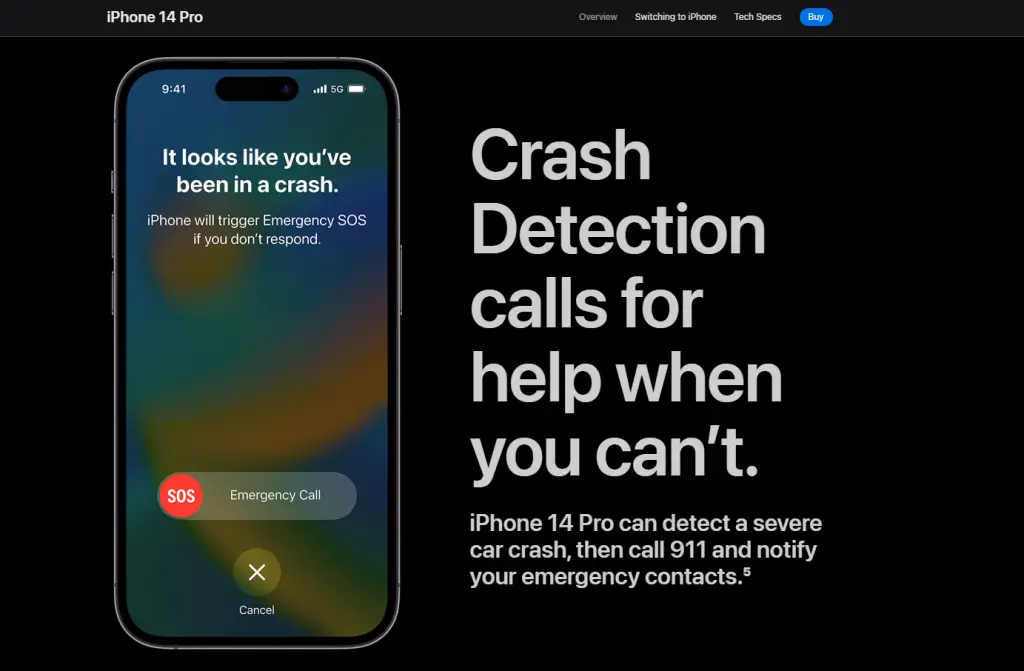 Apple has directed the spotlight on the primal need i.e. Safety.
It is a need that is untapped.
It is a fear that people dread.
It is a horror story that no one really talks about.
But, Apple knows it.
And, it found a solution.
The car crash.
Here, Apple is not pitching any of its features.
Apple is trying to steer your focus to one essential thing.
Your safety.
Here Apple is directly asking you a question.
"Do you want a phone that can save your life".
In response to this, Apple gives this answer itself.
"iPhone will trigger Emergency SOS if you don't respond".
Just look at how after hinting at and triggering fears, Apple comforts, consoles, and consolidates us by positioning itself as the solution to overcome our fears.
It gives us the peace of mind that we look for.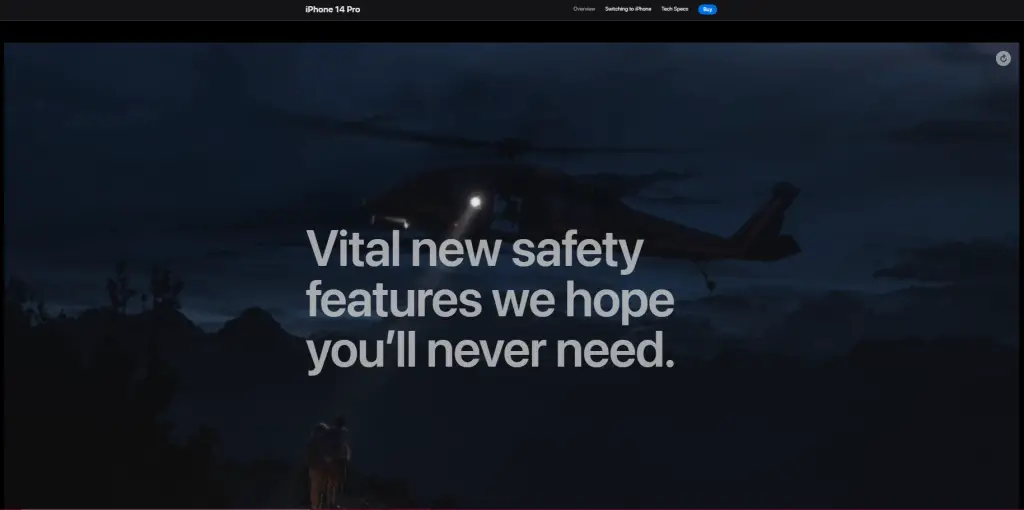 Examine how Apple uses the word vital here to shed light on the essential need to be safe.
Prove Gets Attention

Not every brand lives up to its promises. Apple defies this practice!
Apple approaches things in a more practical, realistic and optimistic way.
But, how?
Apple does not brag about its software, features, and functions, but shows exactly what it means.
For example, here Apple makes it quite clear what 4x resolution could do.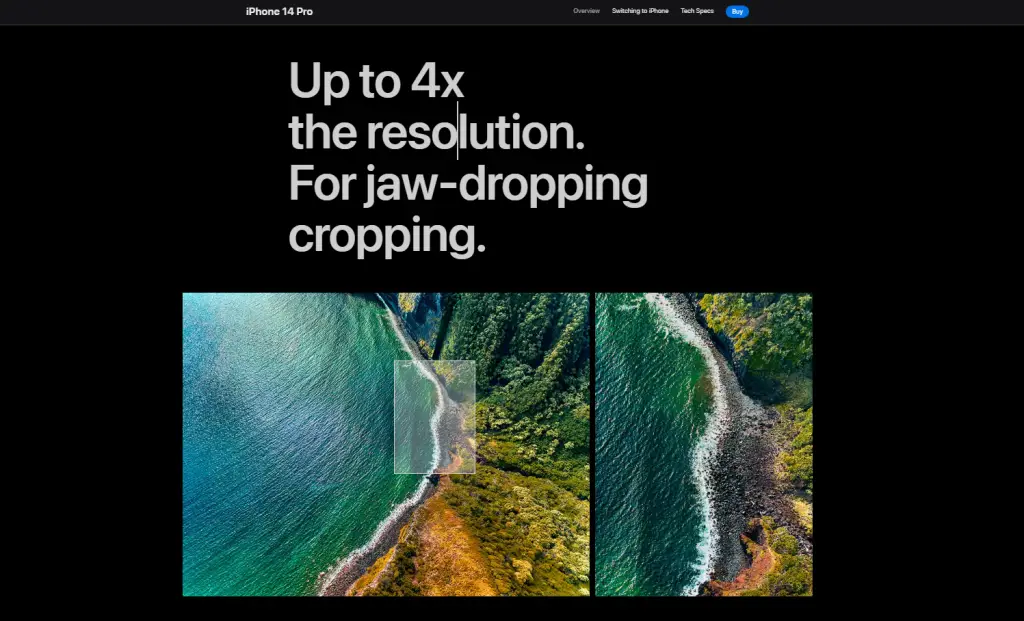 You see how it proves the results in the most authentic and genuine way.
Here's another example.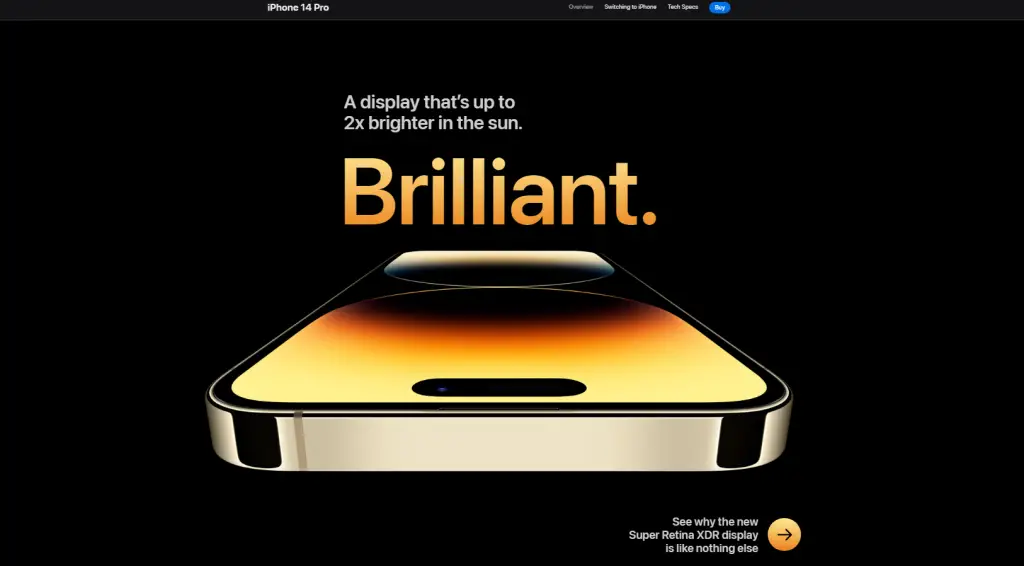 Here, Apple shows us how brilliant, bright and vibrant its screen is.
Apple Solves Nightmares

Apple relieves the tension through its ingenious answers
Apple captures the heartbeat of its users by injecting pain.
Then, it makes us feel wrong about the problem.
And then, Apple provides us with the solution.
It plucks away the worst nightmare the users have in that frame.
Here, the nightmare is the shaky footage.
So, Apple knows the pain the video creators have when they sit long hours trying to stabilize a shaky shot.
This leads Apple to immediately release the pain with its ingenious solution.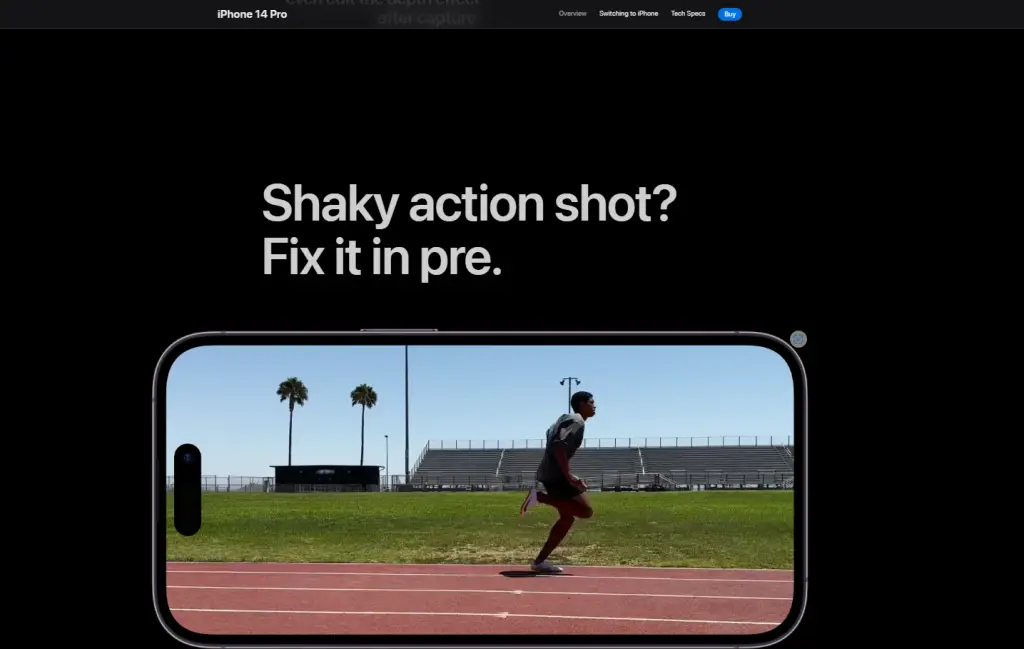 And, Apple does this through a simple, easy-to-understand (a little slang), and in the most fun way to make you feel safe, a friend, and not as a trillion-dollar company.
It's simply phenomenal!
Words Ingeniously combined with Visuals Create Magic

And, it's not about lettering, it's bout' consuming the space, letter and visuals in the most fun way
Even content writers sometimes do not want to read word-by-word, or at least read long texts.
People like visuals.
People like us want to see.
At most times, people like us absolutely hate consuming the words.
And, Apple knows this.
Therefore, it combines words and visuals in the most pleasing way.
While they also make it nearly impossible for us to miss any important words.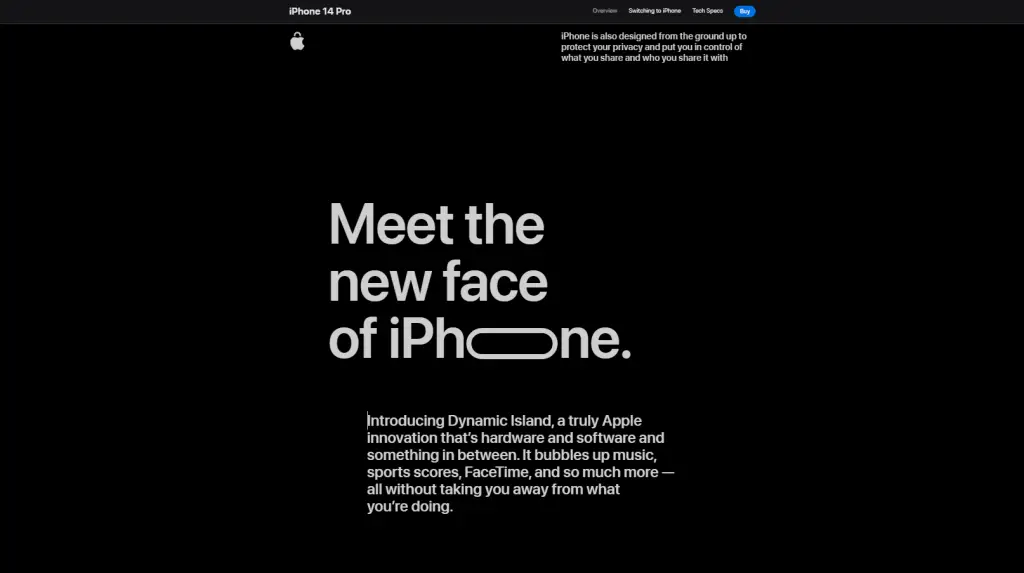 See how creatively Apple carves the dynamic island in the "O" in the iPhone.
The big picture?
Apple has also brilliantly magnified its Dynamic Island, its innovation for the new iPhone 14 Pro.
Here's another example.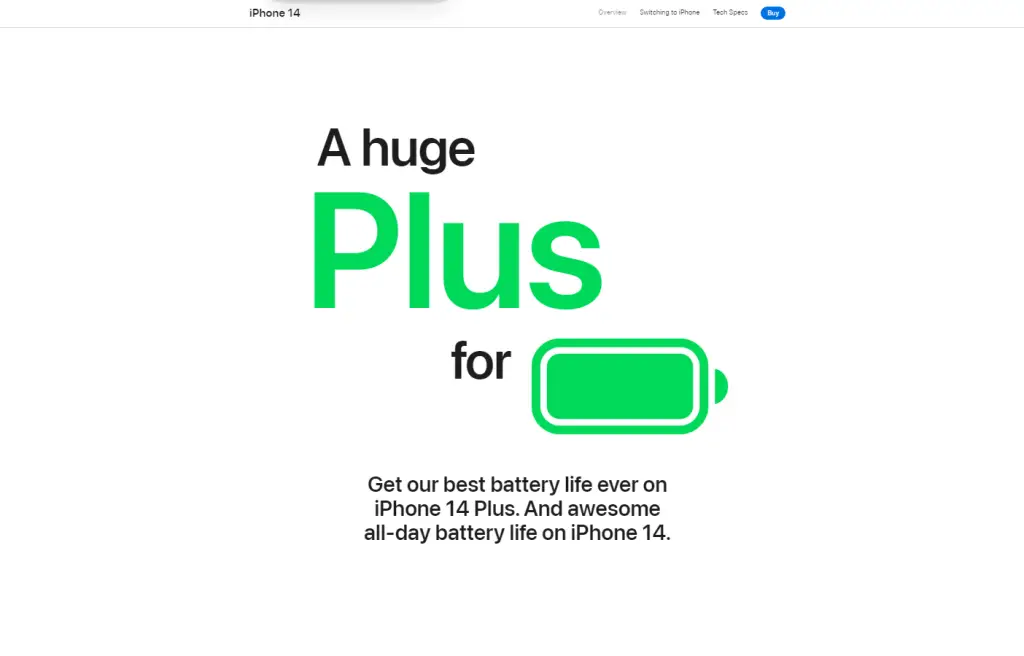 See how Apple eliminates the use of words while also keeping you all absorbed.
The way Apple captured our focus on the big new battery of the iPhone 14 is awesome.
It removed the battery word with the battery icon instead.
So, anyone can understand the message.
And here's my favourite one.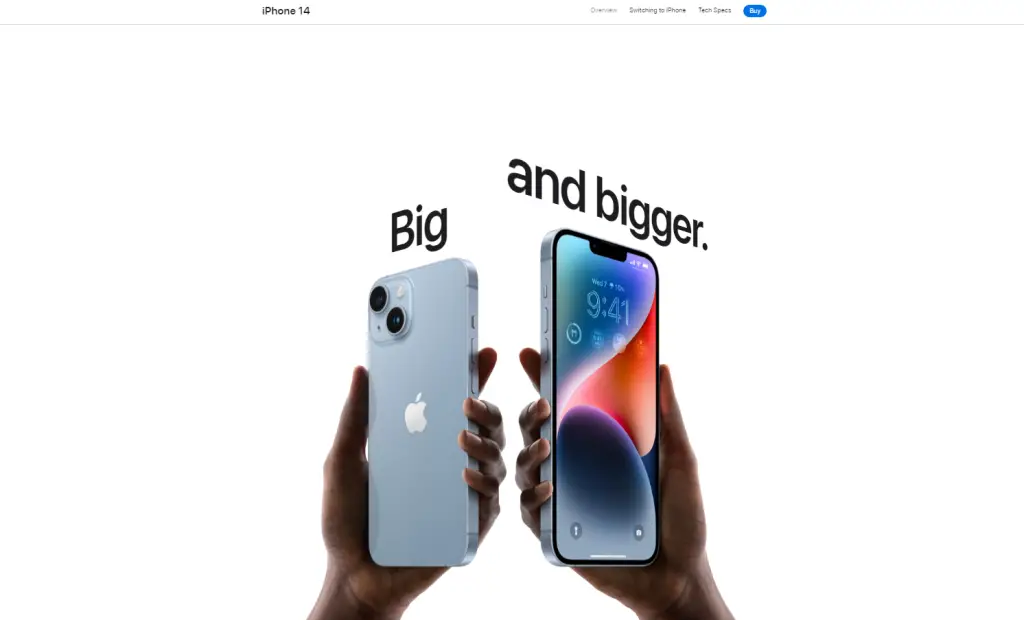 I love the way Apple compares big with bigger.
See the magic coming through its visuals.
Less text with creative visuals.
Dont Sell Multiple Ideas

Focus on one idea
Here Apple knows more doesn't always work.
Instead, Apple draws all the attention and awareness to one big idea.
Less bezel is portrayed as having more screen which is one solid big idea with a benefit.
Present Features as Solutions

Solutions drive people to take action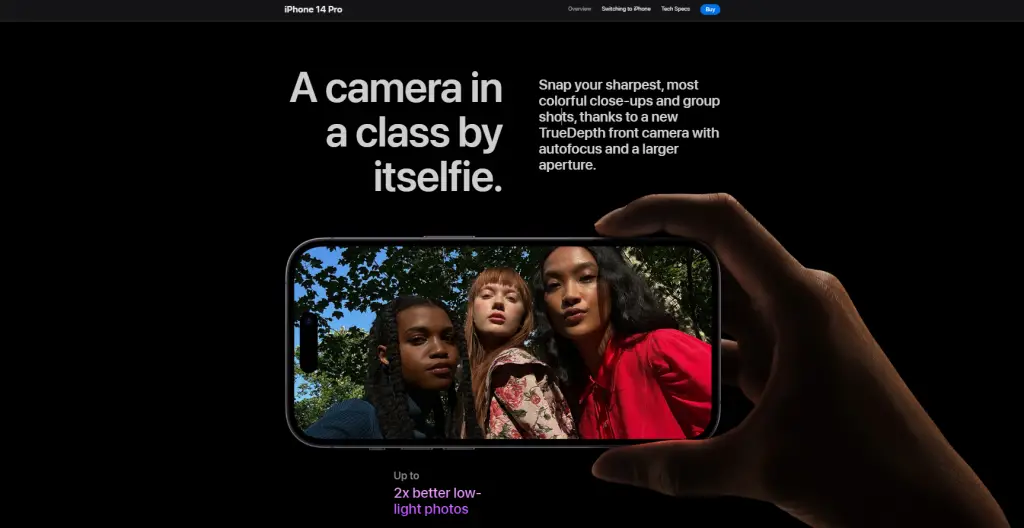 TureDepth and Autofocus are great features.
But, Apple starts off by delivering the solution first.
In this case, it is the sharper, crispier and more colourful pictures.
They present it as a solution to a problem
Trying to snap close-ups and group shots?
Or want colourful snaps?
The iPhone 14 Pro camera helps.
Apple Crushes Every Last Objection

As though we have bought or about to buy the iPhone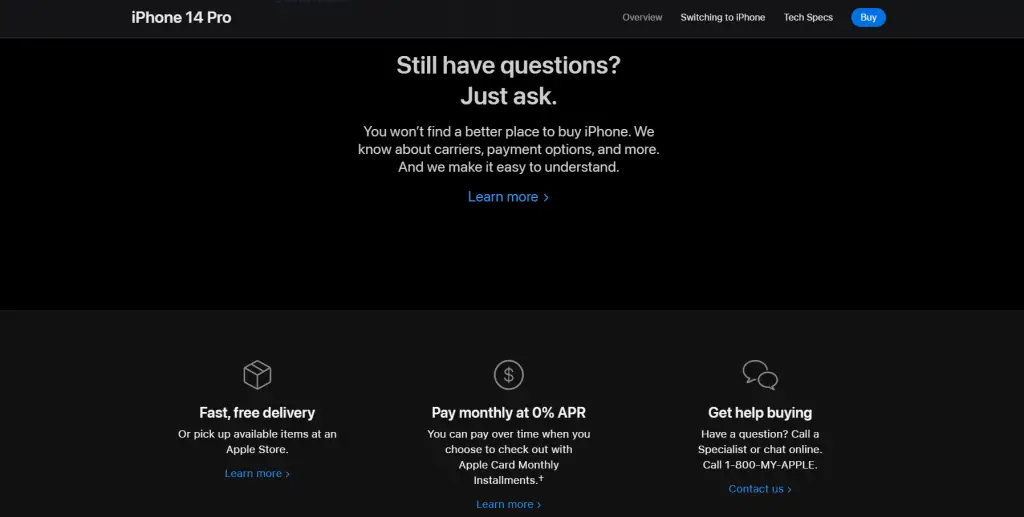 Apple doesn't leave room for any more questions.
It addresses some last-minute concerns we might have.
It makes us feel safe as if it is the best place to buy an iPhone.
So, the need to remove objections is a great way to pave the way to get people to buy the new iPhone 14 Pro.
Weave Your Words With A Gentle Rhyme

And see how it will drum up the inner egos of ours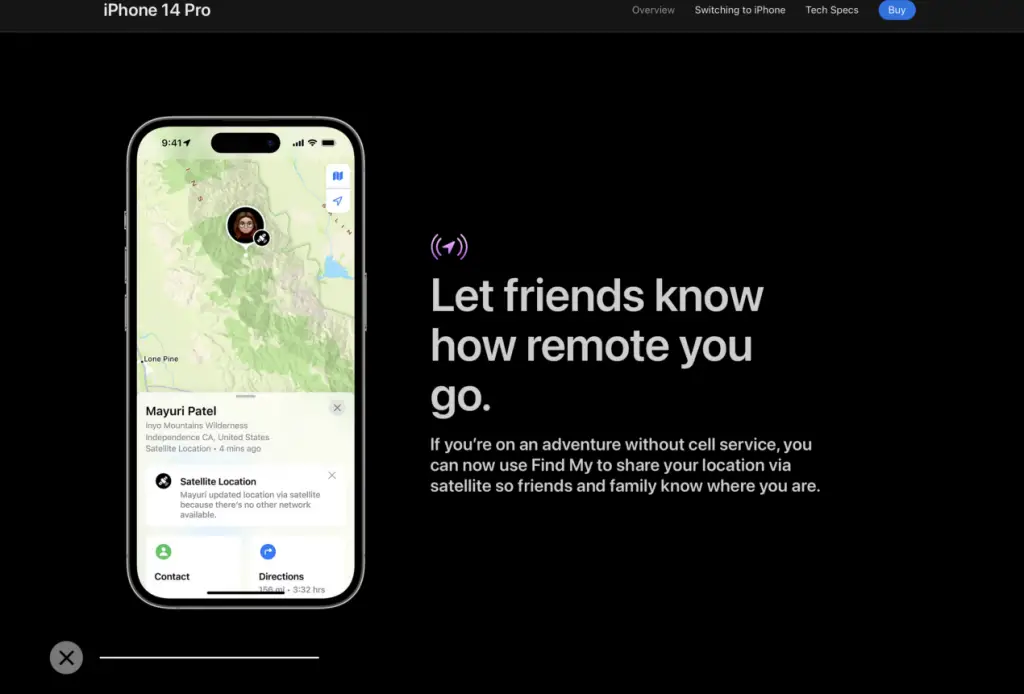 Try it.
Rhyme makes the words flow, a little wavier, and bumps up the elegance throughout the phrase.
And, it makes it more memorable, more soothing and more delightful.
See how elegantly sprinkles the rhyme technique throughout the page.
Now and Go are not direct rhymes, but indirect rhymes.
This means they don't go perfectly with each other.
But, it stresses the two syllables.
Here's another example: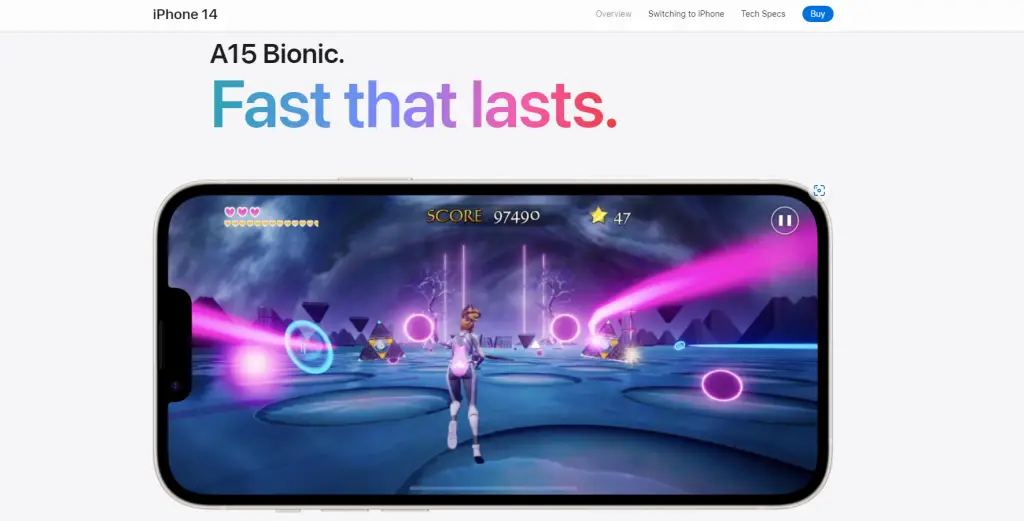 See the effect!
Fast – > Last!
Doesn't it feel like a stroke of magic?
It does right.
It's effortless.
It's pure.
It's original.
And, so subtle and satisfying to read.
Yet, most copywriters can not fathom the beauty of copywriting.
They would have forced the words to like "Fast that Last" or direct rhyme, but the little character 's' makes it just so effortless.
Develop Pattern Matrix

in the most Apple way
Most copywriters would repeat words.
That does not stir up excitement.
Repeat patterns instead.
And not just words.
Patterns are remembered.
That's how we learn and recall things.
However, it's not about repeating words like Prosper. Prosper. Prosper.
Let me show you by example how Apple blasts off the magic!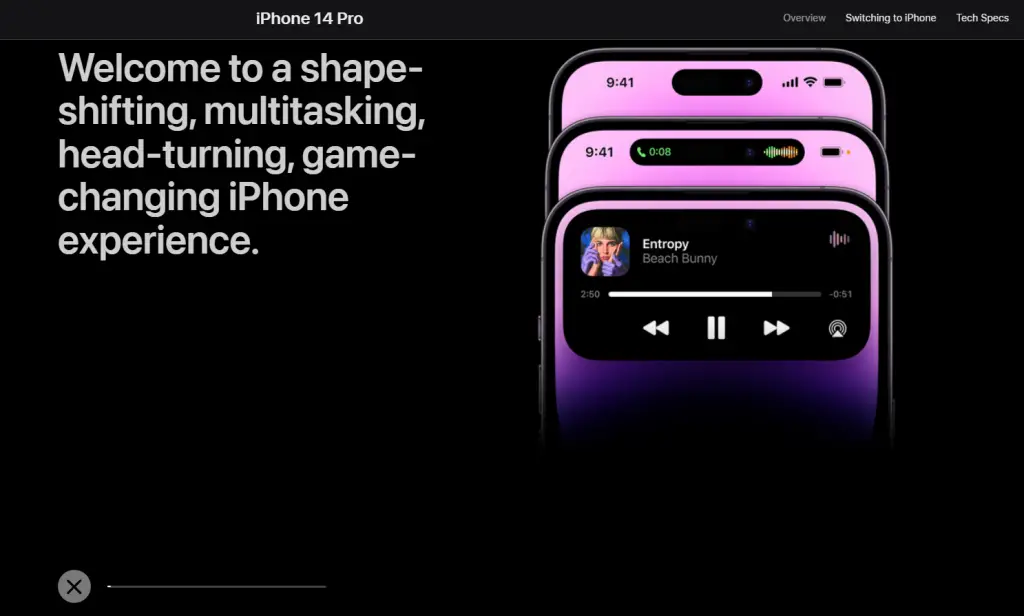 Look at Apple.
They make it so subtle, smooth, and easy to read, almost surreal.
The brilliant use of hyphens and rhythms uplifts and magnifies the idea portrayed.
It's an impressive tone of profound excellence. 
Here's another example: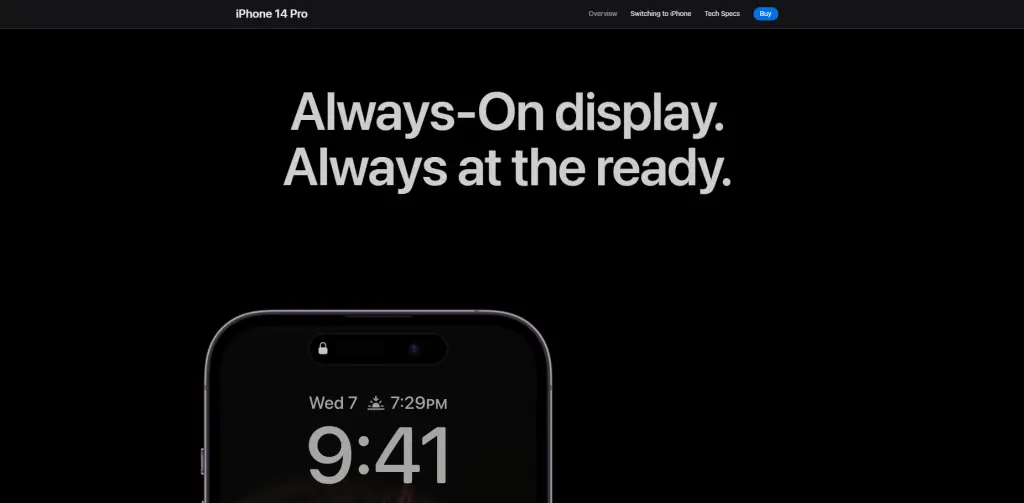 Look how impressively Apple repeats the word "Always".
Now, it doesn't look overwhelmed, too forced, or overly emphasized.
But, it seems like a natural, light, and happy accident because the first word is naturally hyphenated.
Apple Uses Punctuations – In the Most Subtle Way

And, we feel totally paralyzed and yearn to buy the new iPhone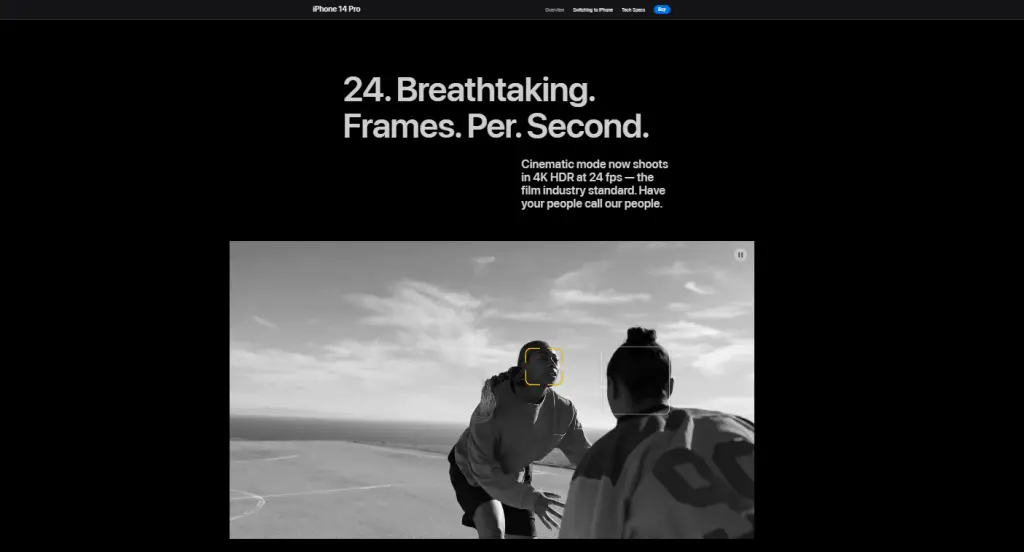 Look how Apple uses every word and makes sure you focus on that word.
It feels like every said word is broken into chunks, into tiny frames, and into tiny morsels.
The ingenious use of punctuation perfectly emphasizes the message.
Typography Plays A Big Role. And. Apple Plays It Perfectly

Apple uses it as a repetition tool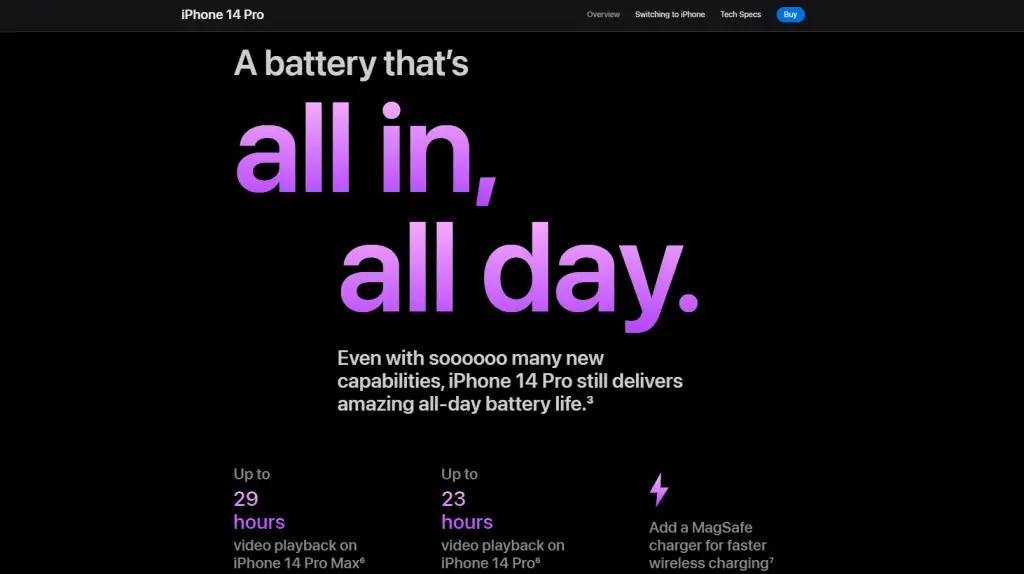 All in, All day.
Repeat it out loud.
This is an example of sound bites.
It feels:
They are like easy-to-quote nuggets of wisdom.
So effortless!
So conversational!
So relaxed!
Oh, yes. One more thing.
Do you notice the "soooooo" with six zeros?
It makes the conversation more friendly, casual, and colloquial so the readers do not feel as if a trillion-dollar company is commanding.
So, My Dear Readers. What Do We Learn From Trillion-Dollar Copy?
We learn that Apple doesn't try to sell.
Instead, it neurologically hooks its customers.
It uses a strong psychological and emotional response.
A response that operates on a subconscious level for the consumer in a way that is typically not readily understood nor necessarily recognized by the consumer, according to Forbes
Instead, Apple makes you the prince, hero, and superman of your story.
In this case, it's the iPhone.
Line by line, Apple sparks excitement.
Line by line, Apple sparks magic.
Line by line, Apple sparks joy.
"Tiny Sparks. Small Flames. Giant Fires"
Some Key Takeaways
If you want to write a seamless and seductive sales copy like Apple, here are a few points to remember.
These points are based on the case study that you and I just looked at.
If you will try to grip even one of them, you'll be far better than you were ever before.
Remember, do not aim for perfection.
Instead, aim for progression.
Aim to get better by 1%
Aim to get better by at least one key aspect.
Aim to get better at expressing yourself in the most subtle way.
Key Takeaways: How to Write A Seamless and Seductive Sales Copy Like Apple Website
Use Rhyme in the most subtle and relaxed way (H2O. You're good to go)
Contrast a big idea with a bigger and it will be noticed (Mega power. Mini sized)
Repeat the pattern and not words (Pro cameras. Pro display. Pro performance)
Single Most Effective Sentences (Seven vibrant colors. You do hue)
Create connotations to ideas beyond tech or your domain (Small chip. Giant leap)
Command Attention with one big idea (Apple iPhone 14 Lock Screen & Dynamic Island)
Short and Broken Sentences develop improved attention (All-new Lightning connector. Smaller. Smarter. Durable. Reversible)
Start using sound bites (All in, all day)
Use Analogies to describe product qualities (The quality of FaceTime video calls is so surprising, it's as if you're in the same room with whoever's on the other end.)
Overcome objections one by one (Shaky action shot? Fix it in pre)
Perform the product comparison within the similar lineup (65% larger sensor than iPhone 13 Pro, 31% smaller TrueDepth camera system, 2.5x better low‑light photo)
Use power words like you, yours and imagine (So you can browse, download, and stream content at remarkable speeds, wherever you happen to be, Imagine sidesplitting, adventure-filled, must-see flicks produced by you and shot on iPhone.)
You can also use power words like "New, Newer, or Newest" (iPhone 14 Pro has Dynamic Island, a magical new way to interact with iPhone, and A new Main camera)
Persuasive call-to-action drives more interest (Compare iPhone models; Shop online; Visit a store, and Call Apple)
Write one sentence with two meanings (Elevate your work. And rotate it, too, Studio quality mics. For high-quality conversations)
Combine more than one technique (Make working hard feel like hardly working, Change is in the Air, Lots to Love, Less to Spend)
Be playful, never dull (5G speed OMGGGGG)
Highlight the solution (Your creative studio on the go, Go to new heights, lengths, depths)
Keep it short, simple and effortless (Selfies you'll flip over, Go steady, massively more Pro)
Translate Gracefully
Now, these are the things that Apple deploys to make its website sales copy the most powerful, most potent, and most creative to get people to buy the new iPhone.
And, I call it Micro-Copywriting!
In fact, Apple copywriting.