Just as you'd give a name to a cherished pet or a beloved vehicle, bestowing a fitting name upon your AirPods Pro can infuse them with personality and make them an integral part of your daily life.
We've got some creative suggestions for naming your AirPods Pro. You can personalize your AirPods and change its name for something cute or funny. In this article, you will learn how to quickly rename your AirPods using an iPhone, iPad, or Mac.
How do you give your AirPods a name?
You can do this via Bluetooth settings on your iPhone. It's easy, and you can even pop them in your ears so that you don't lose the Bluetooth connection. It's not necessary to play anything through them.
Once you've done this, and the iPhone has shown its image of the AirPods, do the following.
Open Settings > Bluetooth on your iPhone
Tap on the i icon next to the AirPods
Tap on Name
Rename AirPods to something funny, cute, or whatever you want
Tap the back arrow twice
That's it. That's how you change AirPods name permanently in iOS 16.
How to Change AirPods Name on Your Mac
If you're using a Mac, you can rename your AirPods via Bluetooth. Here's how:
Connect your AirPods to the Mac
Click on the "Apple" menu at the top-left on your Mac's home screen
From the menu that appears, go to "System Settings."
Then, move to the "Bluetooth" settings from the left sidebar. You will see your connected AirPods under the "My Devices" section on the right.
Click on the "i" button in front of your AirPods' name
A pop-up window will appear. You can see all the information related to your AirPods. Click on the "Name" to change it for your AirPods.
You can choose any name for your AirPods.
How to Change AirPods Name in Android
Renaming AirPods on Android is much easier than on iOS. You don't need to connect the AirPods to change the name.
Go to "Settings" and tap on the "Connected Devices" or "Bluetooth" option.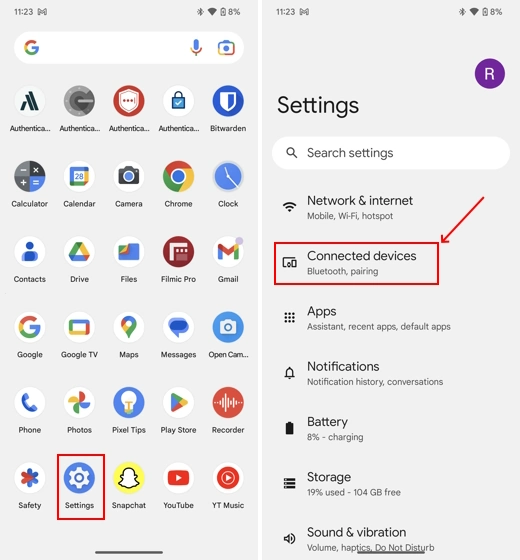 You will see your AirPods among the list of connected Bluetooth devices. Tap the "Settings" icon in front of the AirPods name. It is represented with an "i" icon on OnePlus, Realme, and Oppo phones.
Next, tap on the "Pencil" icon at the top right corner of your screen.
A pop-up window will appear. You can now change the "Device name."
Hit the "Rename" button to complete the process.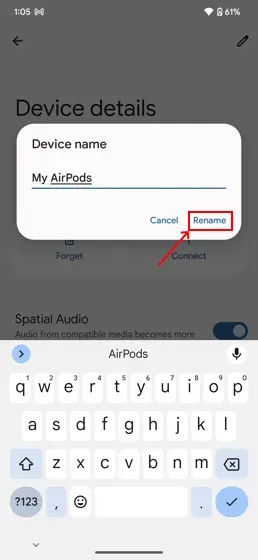 Why Does AirPods Name Keep Changing?
Wondering Why do my AirPods have a different name? It's either because the name goes back to the original when the AirPods are placed back into the charging case or after switching between devices.
Your Apple earbuds take their name from the device they are connected to. If they have another person's name, then they have connected to another phone in the past.
AirPods name ideas
Here are some funny ideas for those AirPoddieess!
Better than your ex😘
drake N josh.
Ruru Flexpods.
I don't DAIR Pods.
Hellen Lost Her Pods.
Brazing swagpods.
Red's Earbuds.
Lord of Pods.