We know how Apple is way ahead in the timely release of its iOS on even 6-year-old iPhones. According to analytics company Mixpanel, As of this article's publishing time, iOS 16 is already up and running on ~30% of iPhones.
One thing that helps this fast adoption is how Apple never discriminates against any iPhone when it comes to software updates, Non-Pro or Pro Max, released in few months ago or few years ago, every iPhone receives the update on the same day. Apple provides all iPhones equal opportunity to join the Apple Beta Software Program. While some of the latest features of the new iOS may not reach the old iPhone 8 like Continuity Camera to use your iPhone camera as a high-quality webcam.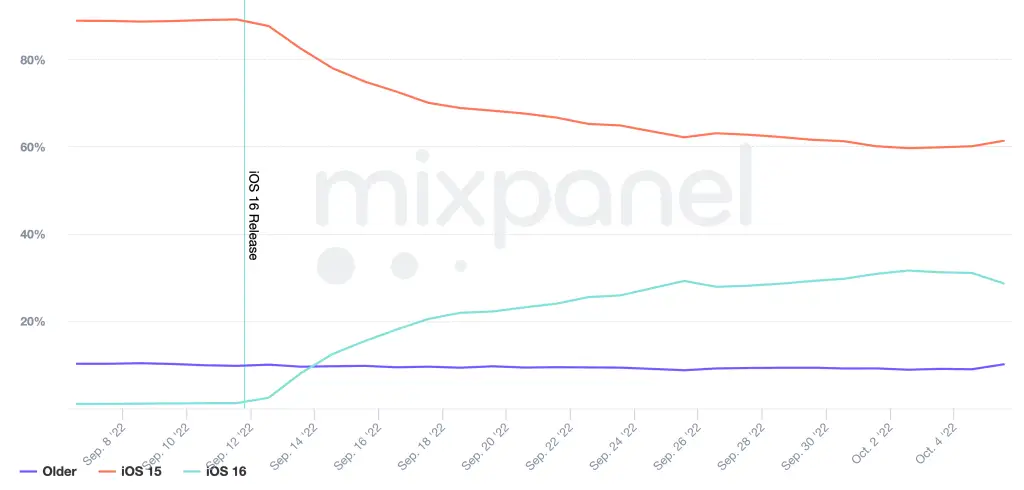 The situation on the Android side is not looking good at all. The latest offering from their side is the Android 13 released on August 15, almost 2 months ago and it hasn't reached a single-digit adoption. In most OS-related data collection companies' reports, there is not even a mention of Android 13. According to StatCounter, The latest year's Android 12 has only 25% adoption.
But, on the other hand, Apple's official source states that last year iOS 15 is on more than 89% of devices, keeping in mind that this was last updated on May 31, 2022, when there was no iOS 16. This just highlights the huge difference between Android and iOS new release adoption rates.
Google's Android has to deal with an enormous amount of phone OEMs, carriers, and other stuff. Google has made quite an effort in recent years to update especially related to security updates providing those through the Google Play service but it still has a lot more to do to reach Apple's level.
Do you care about having the latest and greatest software release or is it just a number for you?
Let me know in the comments.