Threads is here 🧵.
In fact, Meta CEO Mark Zuckerberg's Twitter replacement Threads has come out swinging, rocketing 🚀 toward 100 million users in its first week.
Zuckerberg posted the number of sign-ups was "beyond our expectations" at 70 million sign-ups.
At 100 million, he noted that it's "mostly" organic demand without "many" promotions 📢.
The move is a bold attempt to lure users away from its floundering competitor 🐦 with a near-clone of the platform.
Would it fail to impress, or does it spell real trouble for Elon Musk? That's a separate discussion.
That said, Threads is still in its infancy, and we'll have to wait and see if it captures the same cultural cachet that Twitter once did. So, we'll keep that discussion for later.
Let's now focus on how to use Instagram's Threads. From Sign Up for Threads, to writing a Thread on Instagram and everything you need to know what's inside the Threads app.
Excited to explore Instagram's much-hyped new Twitter-killer app?
Perfect.
Here's a step-by-step breakdown of this "conversational" text-centric app developed to rival Twitter.
How To Get Threads
Threads by Instagram is the top free app in the App Store and Google Play stores. If you want to join Threads, go to either of the app store and type in "Threads, an Instagram app" into the search bar. Download the text-based app. Once it is installed, open it.
How to Sign Up For Threads
Press the "Log in with Instagram" button at the bottom of your screen. Your username will carry over to your Threads account, as will your verification if you have it, and you can choose to customize your profile for your new Threads account.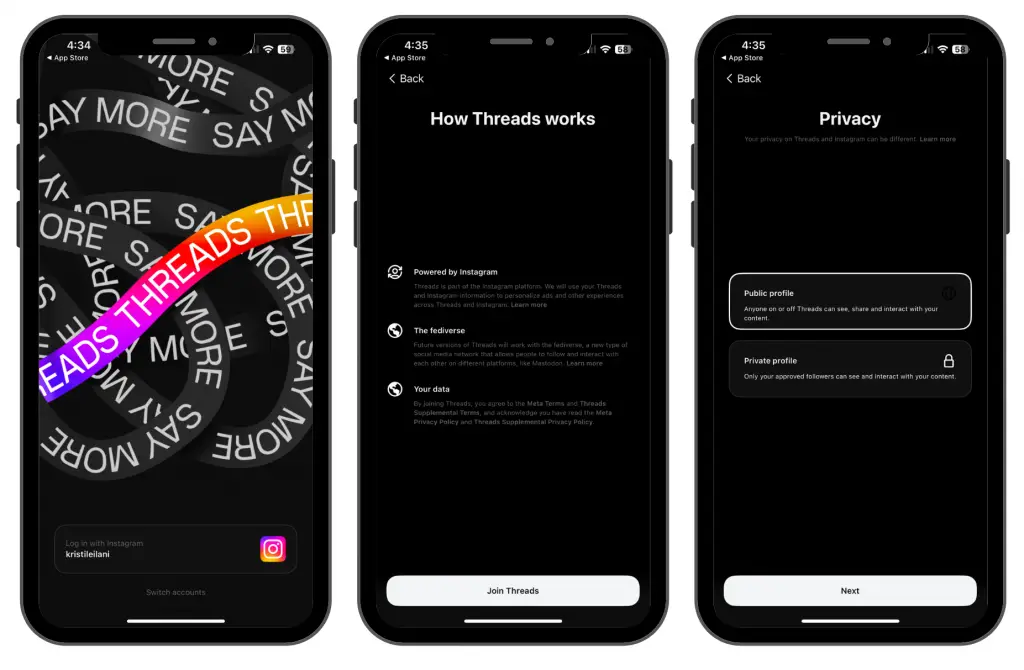 Since the Instagram account is required to use Threads, users are presented with the option to follow people they follow on Instagram during the signup process.
Inside The Threads App
Once everything is set up, the only thing left is to navigate the app.
You will be brought to your Threads feed where you can see the latest posts, and notifications from the people you follow, as well as find and add new accounts to follow from within the Threads app.
Your feed is a mix of posts from people you follow and recommended content. You can reply to, repost, or quote posts from other people in much the same way that you do on Twitter.
Look at the bottom of your screen, and you will see a row of icons that can help you navigate the app.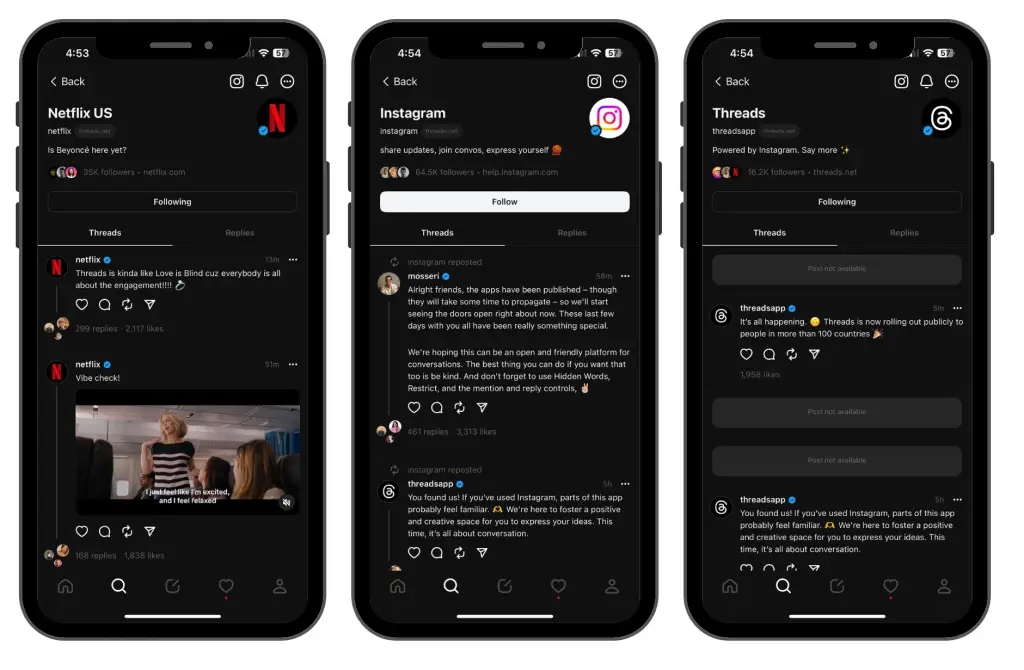 From left to right:
The house icon brings you to your feed.
The magnifying glass icon takes you to a search page, where you can type in the user names of people you wish to follow. 
The pen-and-paper icon lets you create a new thread. 
The heart icon shows your account activity. It displays who followed you, who replied to your thread, who mentioned you in their posts, and which users are verified. 
The human figure icon takes you to your Threads profile, where you can see your activity.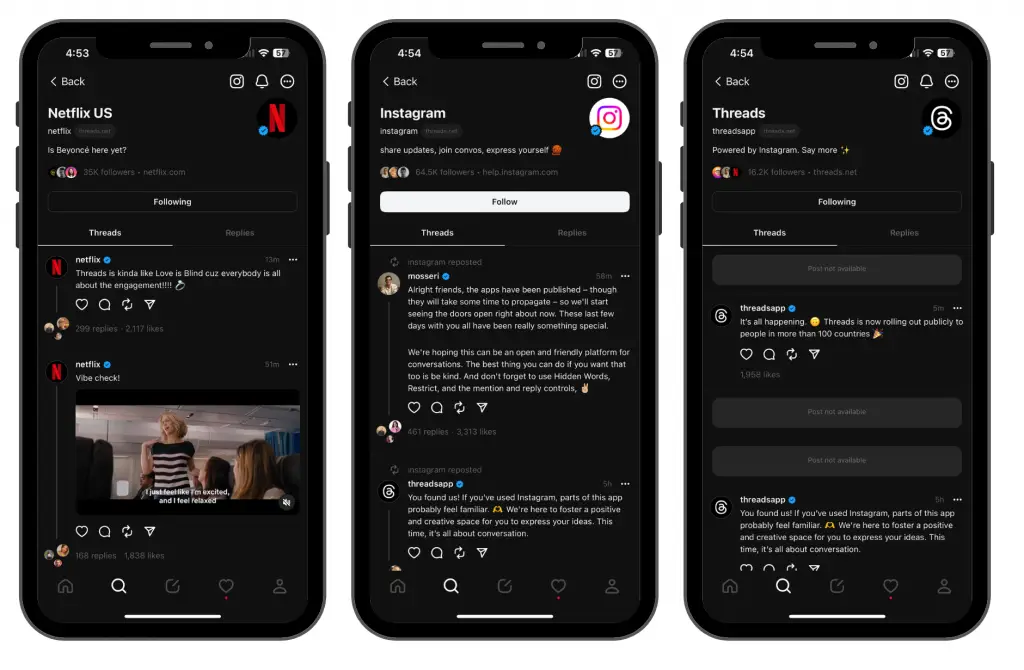 User profiles include a Threads and Replies tab.
Verified Instagram accounts also appear as verified on Threads.
If you subscribe to Meta Verified with your Instagram account, your Threads account will be verified simultaneously.
You can include up to 500 characters of text (compared to Twitter's limit of 280 characters), five minutes of video, and/or ten images per post.
You can share Threads posts as Instagram Stories, posts to the Instagram feed, Twitter, and other social networks to help promote new accounts and gain followers.
How to create a thread
It is super simple to write a thread on Instagram. Simply, click the pen-and-paper icon — located smack in the middle of the navigation bar — to make a Thread post.
You can add a photo, video, or GIF to it by pressing the paper clip icon right below the text.
How to engage with Thread users
If you like someone's thread, you can engage with the user. Click on their profile and open one of their threads.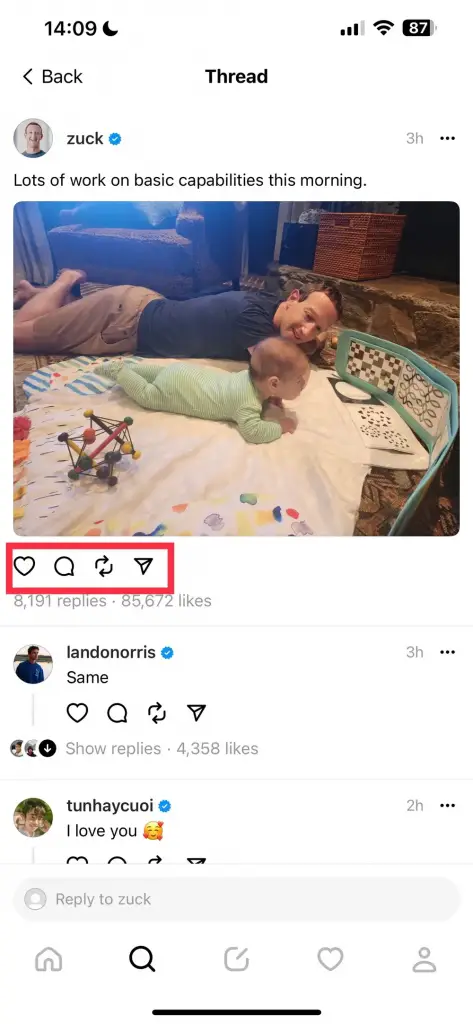 You will see four icons under the text. These are:
Press the heart icon to "like" the thread. 
Click the dialog box icon to reply to the thread. 
Touch the reverse symbol icon to repost a thread to your feed with the option to add a quote. 
Hit the paper plane icon to add the thread to your Instagram story or post it to your Instagram feed.
How to change your privacy settings
To change your privacy settings, click on the human figure icon to open your profile. After that, click the "Edit profile" button."
From there, go to "Private profile" to choose whether you want your profile to be public or private.